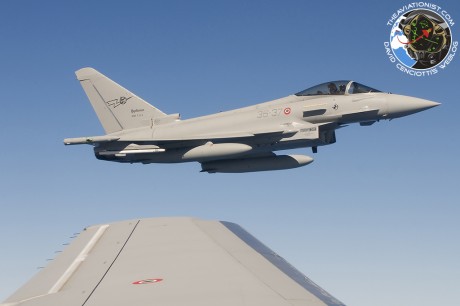 Star-Vega 2013 is the name of the largest Italian exercise scheduled in 2013.
Taking place between May 13 and 24, the Star-Vega is a joint ex. that sees the participation of all the Italian Air Force assets as well as units of the Navy, Army and a NATO E-3 AWACS from Geilenkirchen.
Five airbases are involved in the exercise: the Main Operating Bases of Decimomannu and Trapani, were the tactical planes are based; Pisa, from where the transport aircraft operate; Pratica di Mare, home of the tankers; and Amendola, the Italian UAV (unmanned aerial vehicle) base.
The exercise's scenario is based on the lessons learned during the most recent conflicts, and was designed to minimize the environmental (and financial) impact.
During the drills, The Aviationist was once again invited to take part to a refueling mission aboard one of the four KC-767A tankers of the 14° Stormo.
The KC-767 refueled several Eurofighter Typhoon fighter jets belonging to the 4°, 36° and 37° Stormo, the three Wings of the Aeronautica Militare equipped with the European fighter plane.
The pictures, taken by The Aviationist's contributor Alessandro Fucito, not only show the F-2000s plugging into the refueling basket of the Boeing tanker, but also the refueler's remote vision system and the Typhoon pilots adveniristic helmet.
Image credit: The Aviationist / Alessandro Fucito
Related articles