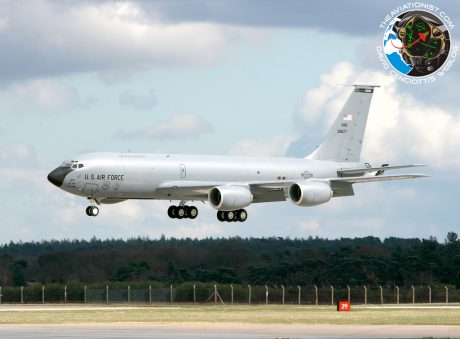 More details about the KC-135 Stratotanker belonging to the 22 ARW (Air Refueling Wing) from McConnell Air Force Base that crashed on May 3, 2013 in Kyrgyzstan have surfaced in the last hours.
The plane, operating from Manas crashed at 2:55 p.m. (Kyrgyzstan time) near Chaldovar, a village located about 100 miles west of the departure airport.
According to U.S. media outlets, the aircraft was on a refueling mission in support of Operation Enduring Freedom, with three crew members aboard: pilot, copilot and boom operator.
The aircraft, KC-135R 63-8877, had left McConnell AFB using callsign "RCH806" on Apr. 30. It made a stopover in RAF Mildenhall, on May 1 and departed again to Manas on the following day: the one on May 3 may have been the first operative sortie since its arrival in theater.
The doomed plane during a recent visit to RAF Mildenhall. Image credit: Tony Lovelock
Bodies of the three crew members were recovered by search teams.
Although the nose section of the aircraft has not yet been found, few pieces of the plane, including a part of the tail, were found on a grassy field bordered by mountains; images of the two impact points seems to prove that the plane, or part of it, hit the ground at very high-speed.
Image credit: Kloop.kg
Some local eye witnesses told reporters that they heard an explosion and then saw the plane splitting into three pieces.
Image credit: Kloop.kg
Recent articles