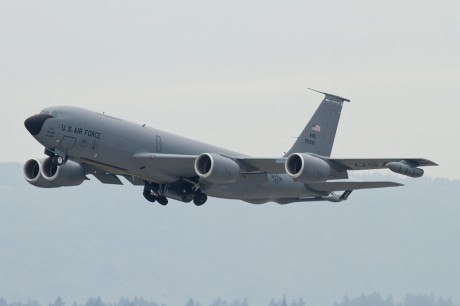 Local news outlets are reporting that a C -135 tanker (most probably a KC-135) aircraft disappeared from radar screens near Kyrgyz-Kazakh border owned by U.S. Manas Transit Center.
According to Interfax, the Kyrgyz Emergency Situations Ministryconfirmed the information about the plane crash. Looks like citizens of Zhayil region saw the blast of the aircraft crashing into a mountain.
Image credit: Russell Hill
Although it's too early to say ejection seats or chutes may have saved the crew, we can't but notice that the KC-135 has no ejection seats.
Actually, there is an escape hatch on the KC-135 but chutes were removed from the Stratotankers, bacause:
"KC-135s are not like other aircraft. They seldom have mishaps, and the likelihood a KC-135 crew member would ever need to use a parachute is extremely low," according to an article published on the Air Force website.
KC-135 are deployed to Manas in Kyrzyzstan to support Operation Enduring Freedom over Afghanistan.
In 2004, an Air Force KC-135 collided on the ground at Manas with a Kyrgyzstan Airlines Tupolev Tu-154. There were no injuries on either aircraft.
Recent articles