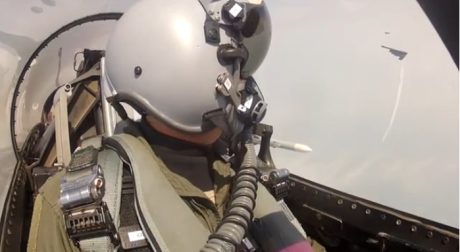 The following cool video brings you onboard an F-16C Block 40 of the 36th Fighter Squadron "Flying Fiends".
Although the unit, belonging to the 51st Wing, is based at Osan airbase, not far from Seoul, in South Korea, the footage was shot while the squadron was deployed in Alaska, most probably to take part to a Red Flag-Alaska (RF-A) exercise.
The stunning GoPro footage shows the 36FS pilots performing aerial refueling, dropping bombs, flying at very low altitude as well as escorting B-2 stealth bombers.
Actually, the scene filmed from the ground showing the B-2 escorted by several F-16s seems to be exactly alike the one depicted in a photo released after the "show of force" over the Korean Peninsula, when Spirit stealth bombers conducted a round trip extended deterrence mission from Whiteman Air Force Base, Missouri.
H/T to Antonio More' for the heads-up
Related articles