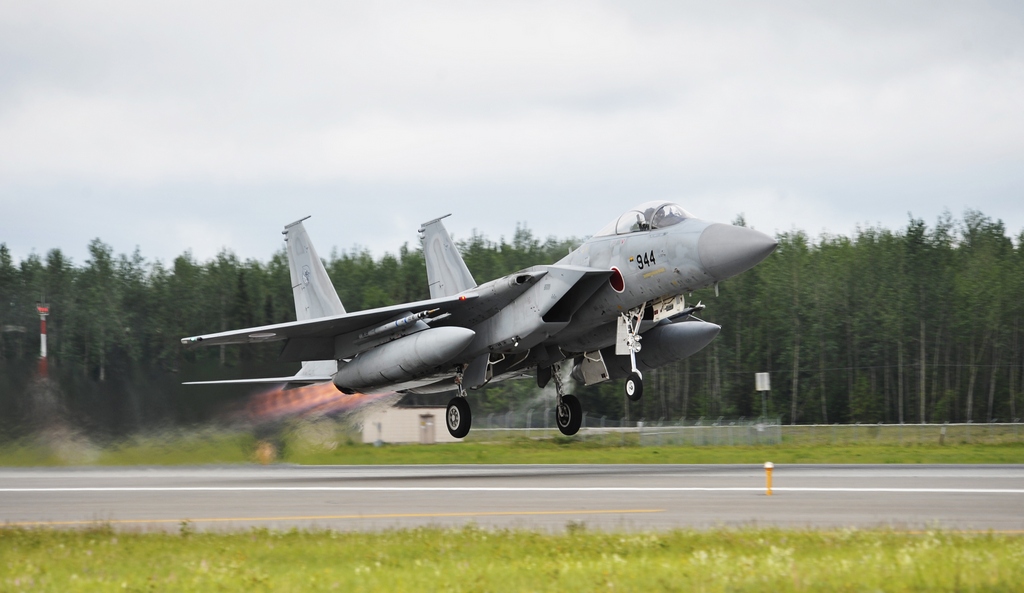 When you think of Red Flag, Nellis and the Nevada terrain immediately springs to mind.
But there is another Red Flag combat training exercise that takes place over the vast training areas of Alaska.
Noteworthy, the latest Red Flag-Alaska 12-2, at Eielson Air Force Base, with more than 100 aircraft and 2,500 personnel, has seen several firsts. It's the first time U.S. Air Force's F-22 Raptors have participated in Red Flag-Alaska, along with eight German Eurofighter Typhoons from Jagdgeschwader 74.
Another first is the participation of the Polish Air Force that has brought its F-16 Block 52 aircraft.
Japan is taking part as well, with its F-15J Eagles (somehow causing some confusion to the U.S. DoD Flickr uploaders – see caption).
Image credit: U.S. Air Force
All of the above are on the Blue Forces side and are training to work as a team with differing aircraft and capabilties.
Something Col. Andreas Pfeiffer of the German Airforce commented on when talking about the Raptor: he said that flying with the Raptor was an interesting experience "Its capabilities are overwhelming."
Image credit: U.S. DoD
Blue forces flew up against the USAF's 18th Aggressor Squadron flying F-16s replicating enemy aircraft like Su-27s, Su-30s and J-20s and providing the Germans with a unique training experience.
Elsewhere in Alaska but part of Red Flag-Alaska, Join Base Elemendorf-Richardson saw a visit by the Royal Australian Airforce with their C-130H, C-130J and their distinctive airborne early warning and control E-7A Wedgetail.
Whilst the Raptor, Eurofighter Polish Air Force are firsts, Red Flag-Alaska has also seen a possible last in the participation of the RAAF C-130H which is to be soon withdrawn from the Australian Air Force service.
Talking to the USAF website Group Capt. Donald Sutherland, the commanding officer of No.84 wing at RAAF Base Richmond and the Red Flag Group commander for the C-130 and Wedgetail said: "The C-130H is an aging platform that requires major fixes, it will be with much sadness that the RAAF retires the C-130H". He went on "One thing we're doing is using the complex ranged environment and the scenarios to transfer some of the skills that are resident in the veteran C-130H workforce across to the newer C-130J workforce."
The RAAF has brought the E-7A Wedgetail to the Red Flag-Alaska for the first time. At a press conference Commanding Officer No.2 Squadron Wing Commander Paul Carpenter said: "We want to integrate with all the players so we can learn form them and in turn they can learn what our platform does."
Richard Clements for TheAviationist.com
Image credit: U.S. Air Force
Related Articles