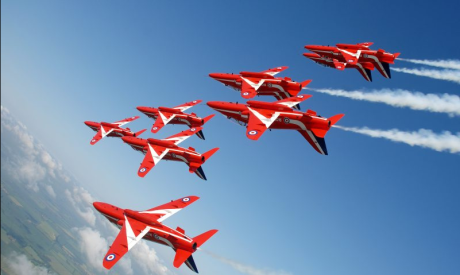 May 17 saw the Royal Air Force's "Red Arrows", one of the world's most famous display teams, awarded their Public Display Authority (PDA) for 2013 by Chief of the Air Staff, Air Chief Marshal Sir Stephen Dalton.
The PDA makes sure that the team provide a display that is as safe as possible whilst still providing the amount of thrill needed to show the RAF pilots' skills in formation aerobatics.
The team has been under intense training during an 8 week stint in Greece and Cyprus.
It is here that Sir Stephen Dalton and The Chief of the Air Staff and Air Officer Commanding 22 (Training) Group, Air Vice Marshal Mike Lloyd, both spent 2 days flying with the team observing the 2013 display no less than 5 times before awarding the team their PDA.
2013 will see the return of the traditional 9 ship formation after sadly loosing two pilots in separate incidents during 2011 where Flt Lt Sean Cunningham and Flt Lt John Egging lost their lives.
Image credit: RAF/Crown Copyright
On the RAF website Sir Stephen Dalton is quoted as saying after awarding the PDA
"The Royal Air Force Aerobatic Team, the Red Arrows, have designed a display of precision formation flying that encapsulates the agility and demonstrates the pure flying qualities required in the Royal Air Force. The Reds are an iconic symbol of the United Kingdom and their displays are vividly demonstrating excellence in precision, teamwork and dynamic flying.
"The commitment of the Squadron, the pilots, the organisation and all who support them, work extremely hard throughout the year to achieve this degree of excellence, on the ground and in the air. They promote the Royal Air Force in the most positive way and continue to strive to be the best of the best for which they are recognised worldwide."
Air Vice Mike Marshal Lloyd was also quoted as saying "I am delighted that the Red Arrows have been awarded Public Display Authority for the 2013 season. They have completed an intense training period to work back up to the traditional 9 aircraft in close formation. This year, they are incorporating a few new formations, amongst which is the "Lancaster" in recognition of the 70th Anniversary of the Dambusters Raid. I know the Team is excited about the 49th display season."
The British public will get their first view of the "Reds" at Duxford on May 26.
Richard Clements for TheAviationist.com
Related articles