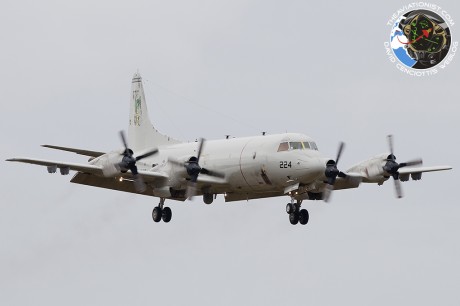 Held twice each year in the Scottish Exercise Areas, Joint Warrior is a large exercise that sees the participation of assets from all three UK armed services as well as numerous foreign ones.
Taking part to the JW13, that kicked off on Apr. 15 and is due to last until Apr. 29, are personnel, aircraft, warships belonging to the UK, France,  U.S., Brazil, Canada, Poland, Sweden, the Netherlands, Germany, Belgium, Norway and Italy.
The two airbases involved in the exercise are Lossiemouth, which hosts maritime patrol aircraft and local Tornado GR4s; and Leuchars, where fighters and foreign jets are headquartered.
The current Order of Battle of the JW, is as follows.
RAF Lossiemouth:
1x P-3AM BrazAF
2x CP-140 CAF
2x ATL-2 FN
2x P-3C USN
1x Shadow R1
3x HH-60G USAF (LN)
RAF Leuchars:
Typhoon RAF
1x E-2C FN
7x Rafale N FN
7x Super Etendard FN
1x Chinook HC2 RAF
4x Hawk T1A RAF
Missions flown during a JW range from Close Air Support, to TASMO (Tactical Air Support to Maritime Operations) to Defensive Counter Air. Usually, during the first week the aircraft involved in the exercise get used with the local procedures and fly basic sorties; during the second week, things become tough and realistic, with MPA aircraft aloft up to 10 hours and live firing activities.
Noteworthy, both the RAF Typhoons and the French Rafale taking part in the exercise are being operated as multirole planes. According to Officer Commanding 6 Squadron, Wing Commander Mike Baulkwill, who spoke to The Courier:
"Joint Warrior brings together our pilots and our engineers with their French equivalents who have a slightly different way of operating, so we can learn lessons from them and likewise they can learn lessons from us. It is about making sure
that when we go and do this for real we can get it right first time."
Image credit: Alessandro Fucito
All the images in this post were taken by The Aviationist's contributor Alessandro Fucito, who went to Lossiemouth to observe some JW13 flying activity.
Related articles