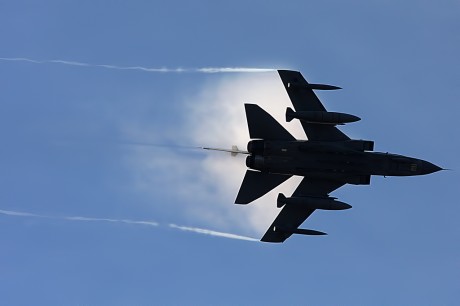 The RAF has recently announced that its highly acclaimed Tornado Role Demo Display Team is to return to the UK Air Show circuit for 2013.
The two-ship display team using radio callsigns Poker 1 and Poker 2 provides a display that shows the British public the RAF's frontline strike capabilities and tactics used by aircrew of the Tornado GR4 bombers deployed to the Afghanistan theatre of operations in the Close Air Support (CAS) role.
The display is fast, loud and dynamic, with large explosions from the pyrotechnics as the unfolding scenario is acted out via a commentator.
Image credit: Gareth Stringer / GAR
The scene is set as coalition troops are pinned down by an enemy firefight. The GR4s enter flying fast and low, wings swept, re-heat plugged in, as they provide a 550 kts "Show of Force."  The ensuing fight includes Brimstone attacks and strafing runs, that give the viewing crowd heat and percussion from the explosions that can even be felt in the aircraft.
Image credit: Gareth Stringer / GAR
Flown by aircrew from XV (15) Squadron based at RAF Lossiemouth, whom are all Iraq and Afghanistan experienced aircrew the team have proved to be very popular with Air Show crowds during 2012.
An exclusive in-depth interview with the Team pilots can be found on the FREE 2012 airshow season review magazine of the Global Aviation Magazine, the monthly digital-only magazine published by the Global Aviation Resource team.
Richard Clements for TheAviationist.com
Related articles