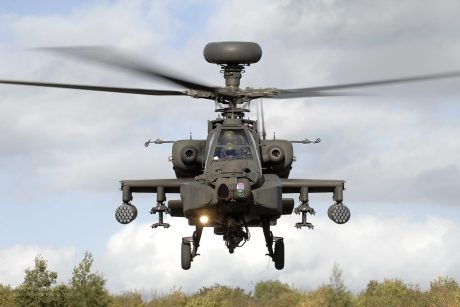 HMS Illustrious ("Lusty") has just finished its part of Cougar 12 deployment to the Mediterranean that saw its Apache attack helicopters firing live Hellfire missiles on ranges off Gibraltar.
Two Apaches from 656 Squadron Army Air Corp launched from Lusty's deck and successfully attacked some specially made targets which were made from aluminum sheeting that can be picked up by the AH-64's fire control radar as well as the Hellfire itself.
The live fire exercise provided a good training opportunity for the Apache pilots and it also proved good practice for the ships specialist air engineer weapons supply team whose responsibility is to move the missile from the ships's magazine to the deck, where armourers load the weapons onto the Apache.
Captain MartinConnell, Ilustrious Commanding Officer said: "Just as we successfully proved earlier this year, the latest Hellfire firings conducted from Illustrious have once again demonstrated the combination of Army Apache helicopters launched from the deck of Illustrious are a potent mix, capable of combat against targets on land and at sea anywhere in the world."
Army Air Corp Apaches were used effectively during operations over Libya and proved to be the first time the type had entered combat whilst based at sea.
Having completed its part in Cougar 12 HMS Illutrious is due back in its home port of Portsmouth on Dec. 30, 2012.
Richard Clements for TheAviationist.com
Image credit: MoD/Crown Copyright
Related articles