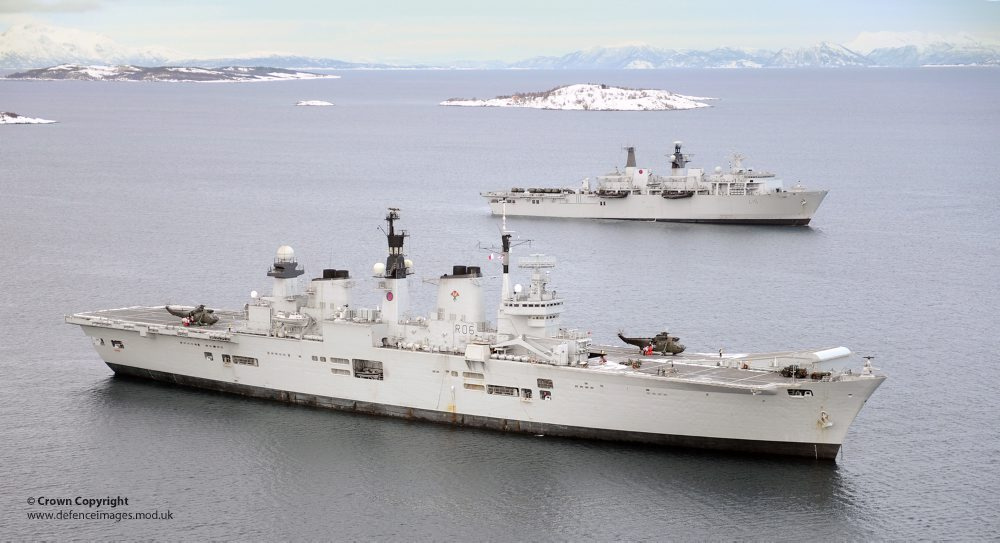 The British helicopter carrier HMS Illustrious (nicknamed "Lusty")  along with the amphibious assault ship HMS Bulwark are part of contingency plans drawn up by the Royal Navy  for a possible mass evacuation of British Passport holders from Syria and bordering countries.
In what is termed a "substantial" Task force, the warships will be deployed to the Eastern Mediterranean for large scale exercises once the Olympic Games have finished and will have the ability to evacuate Britons from the growing violence in Syria.
On Board Bulwark (nicknamed 'The Rusty B') will be 45 Commando, Royal Marines who, as part of the exercises, will perform amphibious landings in Sardinia, Albania and Turkey and will then "loiter" off Cyprus, 160 kilometres from the Syrian mainland.
A Ministry of Defence source said on the GulfNews website "There is no question of a combat role, our aim is purely to evacuate British Nationals if there are 'proxy conflicts' in the Lebanon and Jordan." Gulfnews then go on to mention that it thinks diplomats and special forces have been in the region assessing the number of British passport holders who have fled the violence in Syria towards Jordan and Lebanon.
Most probably, HMS Illustrious will deploy with AH-64 Apache attack helicopters from 656 squadron Army Air Corp, that are veterans of the conflict in Libya. According to some media reports "Lusty" will deploy alongside the brand new Type 45 destroyer HMS Defender (although the latter should not be due in service until early 2013) that will provide air cover even against the threat of incoming anti-shipping missiles.
The GulfNews website says that the fleet will double in size when the French Aircraft Carrier Charles de Gaulle with a strike force of Rafale fighters and its escort ships joins the Royal Navy task force. The French contingent should provide similar evacuations of French citizens back to France should the need arise.
Richard Clements for TheAviationist.com
Image credit: Crown Copyright