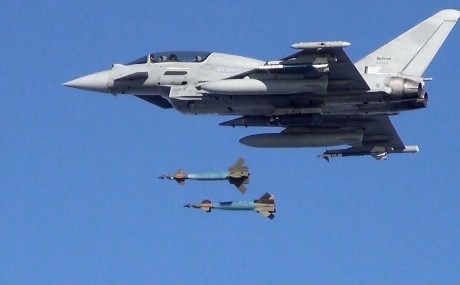 Equipped with new P1E software, a Eurofighter Typhoon in a multirole configuration featuring both air-to-surface and air-to-air weapons (2 GBU-16 plus 1 Laser Designation Pod plus 2 AIM-9L plus 2 underwing tanks) recently conducted the first laser guided, self designating, simultaneous guided bomb drops: in other words, the European jet attacked and destroyed two different targets at the same time.
Image credit: Eurofighter
According to Eurofighter, further successful tests were conducted using the same two-seater plane with 2 x SRAAM, 4 x AMRAAM, 2 x underwing tanks, 4 x GBU-16 and 1 x LDP pod;  approximately double the F-16 weapons load.
The tests were aimed at proving that the Typhoon is not only an air dominance fighter capable to achieve some F-22 kills in mock aerial combat during last year's Red Flag Alaska, but is also an effective precision air-to-surface platform, as proved by the Libya Air War.
"P1E brings full simultaneous multi-role capabilities to the Air Forces currently operating the Eurofighter Typhoon with full integration of the Litening II Laser Designation Pod and Precision Guided Munitions. P1E also delivers Mode 5 IFF, improved Radios and Direct Voice Input, Air-to-Surface integration of the Helmet Mounted Sight System, improved Air-to-Air capabilities including digital integration of Short Range Air-to-Air Missiles, updated MIDs functionalities for enhanced interoperability with coalition forces, and many aspects from the popular UK Radar and Drop programmes which delivered improvements to the Tranche 1 aircraft" Eurofighter says.
Future enhancement programmes will integrate even more weapon systems and capabilities to the aircraft such as Storm Shadow, Brimstone and the Meteor missiles.
Related articles