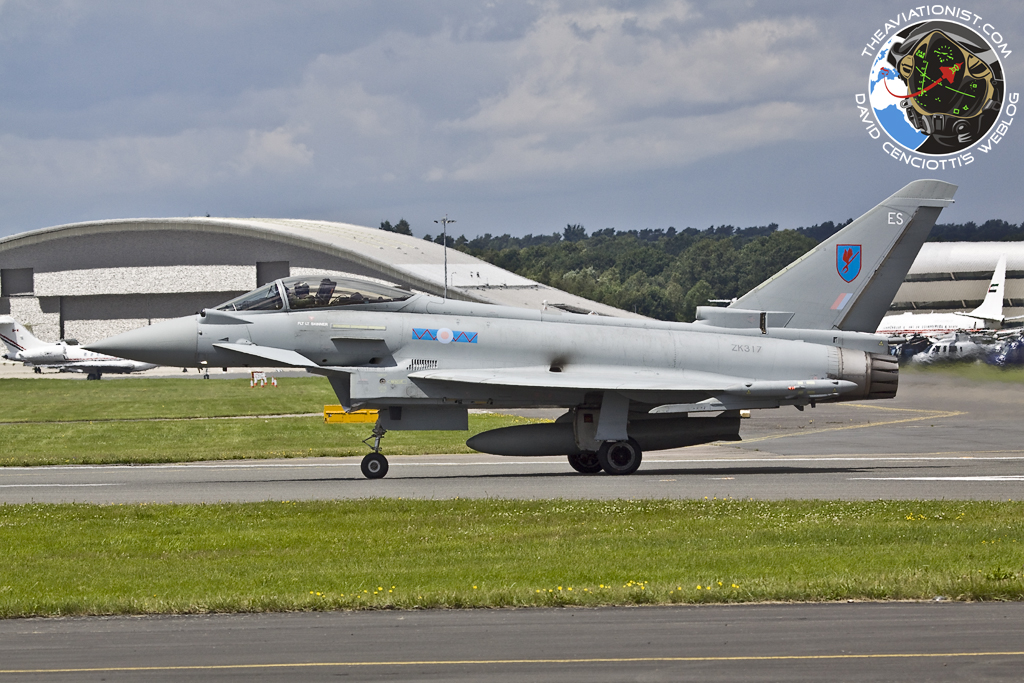 Although a Royal Air Force Typhoon took part to the daily air display, the most interesting thing at Farnborough International Airshow 2012 was the opportunity to get some more details about the recent participation of the German Air Force Eurofighter Typhoons to the Red Flag.
In fact the last Red Flag-Alaska saw the first attendance by both the U.S. Air Force's F-22 Raptors and German Air Force Eurofighter Typhoons.
As we have already reported, the Typhoons and the Raptor had the opportunity engage each other in dissimilar air combat training but only a part of the story about the outcome of the mock engagements has been reported so far: the one about the German commander saying that the F-22's capabilities are "overwhelming," a statement that, according to Eurofighter sources, was taken out of context.
Indeed, Typhoon pilots at Farnborough said that, when flying without their external fuel tanks, in the WVR (Within Visual Range) arena, the Eurofighter not only held its own, but proved to be better than the Raptor.
Indeed, it looks like the F-22 tends to lose too much energy when using thrust vectoring (TV): TV can be useful to enable a rapid direction change without losing sight of the adversary but, unless the Raptor can manage to immediately get in the proper position to score a kill, the energy it loses makes the then slow moving stealth combat plane quite vulnerable.
This would be coherent by analysis made in the past according to which the TV it's not worth the energy cost unless the fighter is in the post stall regime, especially in the era of High Off Bore Sight and Helmet Mounted Display (features that the F-22 lacks).
Obviously, U.S. fighter pilots could argue that, flying a stealthy plane they will never need to engage an enemy in WVR dogfight, proving that, as already explained several times,  kills and HUD captures scored during air combat training are not particularly interesting unless the actual Rules Of Engagement (ROE) and the training scenario are known.
However, not all the modern and future scenarios envisage BVR (Beyond Visual Range) engagements and the risk of coming to close range 1 vs 1 (or 2 vs 2, 3 vs 3 etc) is still high, especially considered that the F-22 currently uses AIM-120 AMRAAM missiles, whose maximum range is around 100 km (below the Meteor missile used by the Typhoon).
Moreover, at a distance of about 50 km the Typhoon IRST (Infra-Red Search and Track) system is capable to find even a stealthy plane "especially if it is large and hot, like the F-22" a Eurofighter pilot said.
Anyway, the Typhoons scored several Raptor kills during the Red Flag Alaska. On one day a German pilot, recounting a succesfull mission ironically commented: "yesterday, we have had a Raptor salad for lunch."
Above images (credit: The Aviationist's photographer Giovanni Maduli) show the Typhoon at Farnborough International Airshow 2012.
Related Articles