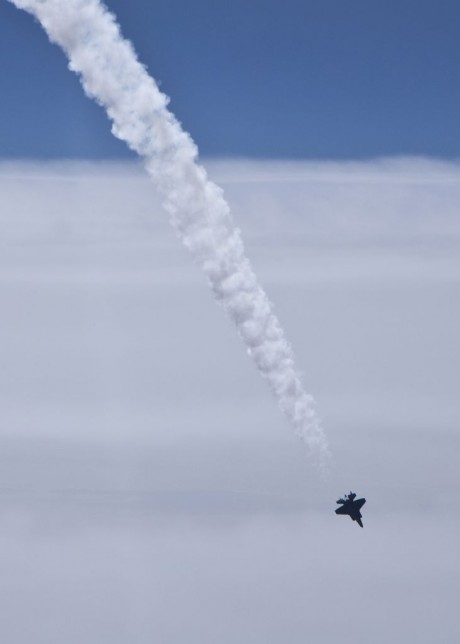 I've seen the video released yesterday by Lockheed Martin at least a couple of time. Still, I struggle to find something to be impressed of.
The video was taken during a series of F-35A high angle of attack (AOA) testing that was recently completed.
According to LM: "The testing accomplished high AOA beyond both the positive and negative maximum command limits, including intentionally putting the aircraft out of control in several configurations. This included initially flying in the stealth clean wing configuration. It was followed by testing with external air-to-air pylons and missiles and then with open weapon bay doors.  The F-35A began edge-of-the-envelope high AOA testing in the Fall 2012.  For all testing, recovery from out of control flight has been 100 percent successful without the use of the spin recovery chute, which is carried to maximize safety."
Some media outlets that received the release published interesting reviews about what they defined "shocking" or "most awesome" footage ever seen, allegedly showing the aircraft's superior maneuverability.
Image: U.S. Air Force
Few weeks ago, Bill Flynn, Lockheed test pilot responsible for flight envelope expansion activities for the F-35, told Flight Global that all three variants of the Joint Strike Fighter will have better kinematic performance than any fourth-generation fighter plane with combat payload, including the Eurofighter Typhoon and the Boeing F/A-18E/F Super Hornet.
Such claims were strongly disputed by a Eurofighter Typhoon industry test pilot, who debunked all Flynn's "theories" about the alleged superior F-35 performance.
The F-35 maneuverability shown in the video seems far to be special. Have you ever seen what a Su-27, a Mig-29 a Lockheed Martin F-22 Raptor, with the latter highly facilitated by thrust vectoring engines, can do?
Even the SAAB Draken was capable to perform a "Cobra" some 40 years ago…
Related articles