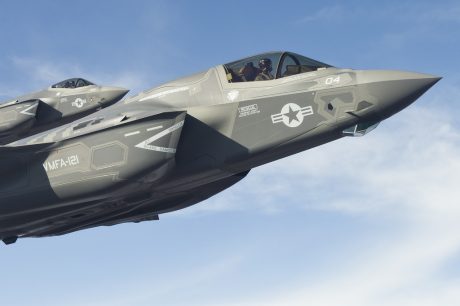 The brand new Joint Strike Fighters reached the 58th Fighter Squadron on May 6, 2013. The difference between the mentioned plane and the older ones is the fact that it already incorporates the Block 2A avionics software and will start flying in 2-3 weeks.
Image Credit: Lockheed Martin

26 F-35As (including 2 spares) are going to be a part of the Squadron in Eglin by the beginning of 2014. Some of them will support a training squadron that will be stationed at Luke AFB and is scheduled to receive its first JSFs in January 2014.
The new software introduces interesting capabilities.
First of all, it allows the pilot to use all six thermal imaging cameras of the EO-DAS AN/AAQ-37 optical set.
The purpose of the device is to detect and track the enemy aircraft and provide early warning messages about the launched missiles.
Nevertheless it is not integrated with the on-helmet-sight yet even if it allows displaying weather info.
In spite of the latest upgrade, the F-35A is still restricted. It can't conduct IMC flights, night flights, aerobatics (have you ever seen JSF on an Air Show?!) and formation take-offs and landings. Even if it is in a post-prototype stage of development the F-35 is still not a fully capable fighters, and it evokes mixed feelings among the Lockheed Martin employees, as The Aviationist reported earlier.
However, the Block 2A software extends the F-35's capabilities, because it lets the pilot simulate the launch of AIM-120 missiles. Still, the g-limit for the airframe is 5,5 G that is quite ridiculous, taking into account the objectives the JSF is designed to face. Hopefully the g-limit will be lifted soon.
The training ground attack missions are practically the only thing JSF feels good at, as it allows for dropping laser guided GBU-12's and GBU-31 JDAMs.
Image Credit: USAF
The 58th Fighter Squadron already operates 9 F-35A Block 1B, which were used to train USAF instructors and test pilots. The ultimate number of trained pilots is to reach 45.
The initial problems with the Lockheed-Martin fighter jet are not an issue for some of the customers. Just recently Israel has transferred $20,1 million for the jets that they are going to buy. The money is to fund additional 2 planes to the 6 already existing in the order. They are to be a part of LRIP – Low Rate Initial Production.
Out of the remaining planes of LRIP VIII  (45 examples) 29 are to stay in the US (19 F-35A's – for USAF and 6 VTOL F-35B's for the Marine Corps and 4 F-35C's for US Navy). The remaining 19 planes are to be delivered to the customers as follows: 4 F-35B's for UK, 2 F-35A for Norway, 4 F-35A for Japan and two abovementioned examples for Israel.
Jacek Siminski for The Aviationist
Related articles