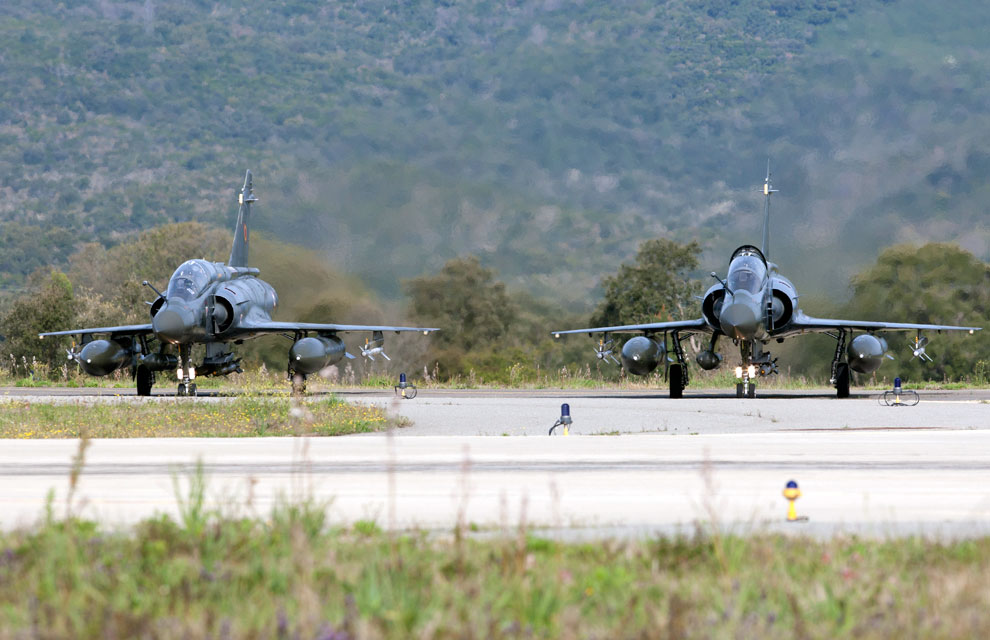 Previous debriefings: Archive
Since there's no significant change in the battlefield nor any evident sign of an attempt to get out of the stalemate, the news of the day is that two photojournalists, Oscar-nominated filmmaker Tim Hetherington and Getty photographer Chris Hondros, were killed on Apr. 20, Day 33 of the war, after coming under mortar fire in Misratah. Hetherington, co-director of the Academy Awards-candidate documentary "Restrepo" on the Afghan War and Hondros were working together with other media representatives on Tripoli Street, one of the most important location in the third-largest Libyan city where fighting between rebels and Gaddafi's forces is more fierce. The last Tweet from Hetherington, is dated Apr. 19, 12:46, and came from is Twitter for iPhone application: "@TimHetherington: In besieged Libyan city of Misrata. Indiscriminate shelling by Qaddafi forces. No sign of NATO".
The Restrepo trailer:
Hence, although NATO said that allies planes have conducted numerous strikes against Gaddafi's forces in and around Misratah, destroying over 40 tanks and several armoured vehicles, and many anti-aircraft systems "enabling our planes to operate more effectively in the area" Hetherington had seen no sign of NATO planes. On the contrary, he was a victim of that fire that, according to Gen. van Hum, was watched threatening civilians by allied pilots and consequently destroyed.
Is NATO doing enough? No, it isn't. It's not a personal opinion, it is what the situation in Libya shows.
That said, I would like to share with my readers also another thought. I acknowledge that, doing media relations at NATO these days must not be simple. However, I find irritating as well as useless a press release from NATO issued on Apr. 20 to advice Libyans to avoid Gaddafi's forces.
Maybe NATO should explain something different. For instance, why after 32 days there are still fixed targets like ammunition depots to be hit, when these should be destroyed in the very first stages of an air campaign (just after making the enemy's air defenses unserviceable). Anyway, below is the usual count of sorties flown in the previous 24 hrs:
Since the beginning of the NATO operation (31 March 2011, 08.00GMT) a total of 3.016 sorties and 1.261 strike sorties have been conducted. On Apr. 19, 139 sorties (62 air strikes). Key targets were: 2 Ammunition depots near Tripoli, 2 T-62 Tanks, 1 T-55 Tank, 3 Rocket launcher vehicles near Misratah, and 1 Surface-To-Surface (SSM) Missile Site near Sirte.
Other interesting things, information and thoughts:
1) An interesting update comes today from the French MoD. As you know, since Mar. 25, 2011, 4 French Mirage 2000-5s are operating from Souda Bay airbase in Crete, from where they conduct joint air interdiction missions with Qatari Mirage 2000-5s. Beginning on Apr. 18, 4 Mirage 2000Ds (like those in the French MoD released pictures below), which previously operated from Solenzara, in Corsica, were redeployed to Souda to conduct air interdiction missions and ground strikes from the Greek airbase. On Apr. 19, they were joined by two more Mirage 2000Ds. This redeployment in Crete can enhance the effectiveness of French combat aircraft by reducing the transit time to the area of operations, thereby reducing reaction times and increasing the amount of time spent on patrol. In total, from Apr. 19, 10 FAF planes are deployed to Souda: 4 Mirage 2000-5s and 6 Mirage 2000Ds.
On Apr. 20, 2 Mirage F1CR performed an emergency landing for fuel problems in Malta Luqa airport. The aircraft were refuelled and departed again to Solenzara later the same day. After the two defecting Libyan Mirage F1s, this is the second time Malta International Airport receives the unexpected visit by two Mirage F1s….
Source: Reuters
2) The Italian contingent in the last 24 hours flew 8 missions: 2x Tornados, 5x Typhoons, 1x AV-8B+s. Since the Italian Navy Harriers are involved in reconnaissance and air defense missions, many have asked in which configuration the AV-8Bs are flying over Libya. Even if I haven't seen any picture depicting an Italian Navy jump jet so far, I think that, as many other assets involved in the enforcement of the No Fly Zone, they are flying with air-to-air missiles (AIM-120s/AIM-9s) but, since they are multi-role aircraft perfectly suitable for the air-to-ground role and for the CAS in particular, they are bringing also Litening pods on one of the underwing pylons to have a closer look at the overflown areas. The Litening has the possibility to transmit TV images in real time to a ground receiving station.
The picture below shows an AV-8B of the Marina Militare with a Litening pod under the right wing.
3) As said, the US are contributing to Unified Protector with support assets. Among them, some of the most important are the KC-135s and KC-10s deployed to Moron, Spain, providing air-to-air refueling to both American and allied planes. The aircraft belongs to the 313th Air Expeditionary Wing, which was given a nickname "Calico Wing" by the wing's commander because, the multitude of colors of tail flashes on the 313th AEW ramp, looked like a Calico Cat (a domestic cat with a spotted or parti-colored coat).
As an example, a recently published photo from 313th AEW Public Affairs shows the various tail flash colors of the aircraft that might resemble the "spotted" coat of a calico cat. The illustration features aircraft tails from Air National Guard units in Nebraska, Utah, Ohio, Arizona, Tennessee, Illinois, Iowa and Pennsylvania. It also shows Air Force Reserve aircraft from Indiana and North Carolina, and active-duty aircraft from California, Kansas, North Dakota, Washington, Florida and New Jersey.