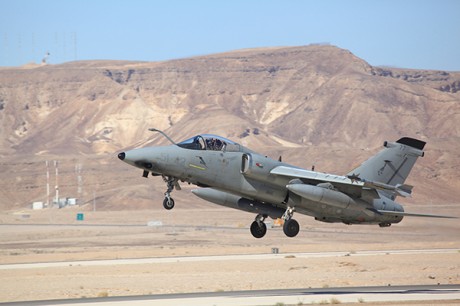 The news was kept confidential until the Israeli Air Force released some interesting details on its website but the Italian Air Force has just finished its third annual deployment in Israel, the last of a series of joint exercises between the two air forces.
Image credit: IAF
AMX and Tornado combat planes conducted joint drills with jets of the Israeli Air Force from Ovda airbase, southern Israel.
The two-week exercise saw the Italian planes fly in a simulated air war scenario: the training included sorties against aerial threats, live firing against ground targets, and very low level flying.
The Italian pilots enjoyed the oppotunity to share their experience with the combat proven Israeli crews and operate at much lower altitude than that allowed in Italy.
Along with the AMXs and Tornados, the F-16s of the 140 Sqn "Golden Eagle" from Nevatim and F-15s of the 133 Sqn "Knights of the Twin Tail" from Tel Nof.
The last of series of exercises that have seen planes of both nations cooperate during reciprocal visits reaffirms the strong ties between Rome and Tel Aviv in the defense field.
On Jul. 19, 2012, Israel's Ministry of Defense signed a contract worth 1 billion USD for 30 Italian M-346 Master as replacement of the aging Air Force's fleet of A-4 Skyhawks, used as advanced trainers for combat pilots designated for fighter jets.
On Jul. 20, it was announced that Israel's IAI will supply the Italian Air Force with  two Gulfstream G550 Eitam conformal airborne early warning (CAEW) aircraft as part of "a larger Government-to-Government agreement between Israel and Italy [worth 1 billion USD] that includes aircraft, engines, maintenance, logistics, simulators and training, provided also by other Israeli and international companies."
Image credit: IAF
Related articles