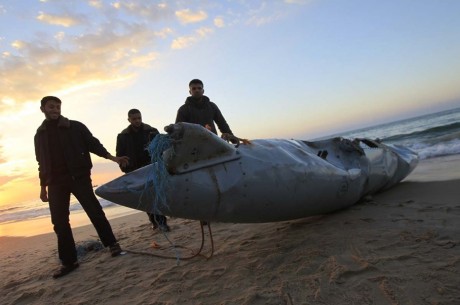 On Nov. 26, a heavily damaged aircraft fuel tank washed ashore near Rafah, in the southern Gaza Strip.
Hamas media outlets claim the part comes from an Israeli Air Force plane shot down by militants during operation Pillars of Defense, even if there are few details that could corroborate the allegation.
Image credit: Getty
Surely, the fuel tank looks similar to the characteristic F-15's auxiliary fuel tanks, hence it might have been jettisoned by one of the planes involved in the 8-day offensive in Gaza.
Fuel tanks are jettisoned by combat planes to reduce weight and drag. Aircraft escaping a heavily defended area or about to engage enemy planes may decide to drop their auxiliary fuel tanks to improve speed and maneverability.
Provided it was really dropped during the recent strikes, it may come from an F-15 targeted by a surface-to-air missile or experiencing an technical failure.
Noteworthy, whereas some planes flying over Gaza flew without external fuel tanks (see image below), many others carried auxiliary tanks  in spite of the relatively short distance of their bases to the area of operation: the latter were most probably involved in long on-call strike missions against targets of opportunity spotted by drones overflying the Strip.
Image credit: Reuters
Related articles