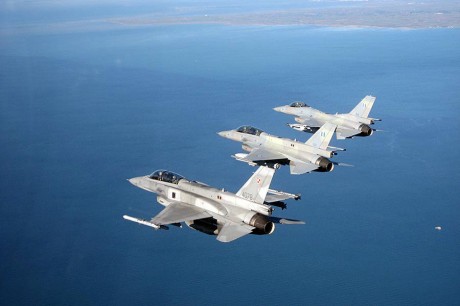 During the first half of December 2012, Greece and Poland conducted a joint air training exercise in western Greece.
The drills took place from Dec. 3 to 14 at Araxos airbase, home of the 116 Combat Wing where the Polish Air Force deployed with 4 F-16C and 2 F-16D Block 52+ jets from 31 and 32 BLT (Squadron) while HAF with F-16C/D Block52+ Advanced of the 355 Squadron "Τigers".
Image credit: HAF
The participating units trained on air combat tactics, close air support (CAS) and defensive elements of Strike Coordination and reconnaissance (SCAR) while crews exchanged their experiences on the design and execution of missions and their impressions of the use of tactical reconnaissance pod DB-110.
Highlight of the joint drill was a COMAO (Composite Air Operations) – scenario, where the F-16 Block52 + of 335 Sq. and 31BLT flew against Mirage-2000, F-4E and A-7E.
In the recent months, the Hellenic Air Force has been quite busy with joint exercises with the Israeli Air Force, as well as various live firing events in the Aegean sea.
H/T to Strategy Reports for the heads up
Image credit: HAF
Related articles