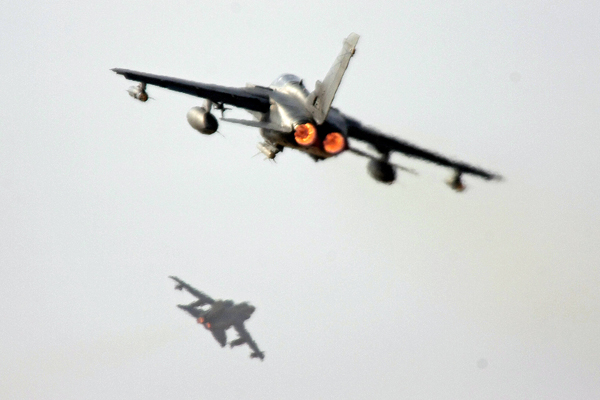 Updated Dec. 25 10.30 GMT
From Dec. 5 to 15, Tornado ECR of the 50° Stormo and Eurofighter F-2000A Typhoon of the 4° and 36° Stormo of the Italian Air Force deployed to Uvda airbase, in Israel, for the Exercise "Desert Dusk", a small-scale joint exercise with the Israeli Air Force involving 25 planes.
During their 2-week stay, the Italian fighters that have taken part to the Operation Unified Protector in Libya (the ECR as a SEAD asset, the Typhoon flying both in the air defense and in the air-to-surface role – the latter flown only by RAF planes), accompanied by 150 military, launched 100 sorties, including some COMAOs (Composite Air Operations), that gave the Italian pilots (and for the very first time, the Typhoon fleet, that had not taken part to the first deployment in Israel in 2010) to train in high-lethality scenarios, testing the capabilities of the squadrons to deploy "out-of-area" with the support of the KC-767A and the C-130J.
These exercises allow crews to refine procedures and techniques and develop procedural standards that are extremely important to operate in Crisis Support Operations launched in an international cooperation framework.
According to the news release published on the IAF website, during the first week, the Italian flew an exercise with the 115 Sqn "Flying Dragon", equipped with F-16A "Netz" which specializes in enemy simulation and in the second, they were joined by the 69 Sqn "Hammers"  from "Hatzerim" airbase equipped with F-15I "Ra'am" and the110 Sqn "Knights of the North" from "Ramat-David" airbase flying the F-16C "Barak".
The "Desert Dusk" came few weeks after the Israeli Air Force F-16s deployed to Decimomannu, in Sardinia, for the Exercise Vega 2011, and in a period of growing tension in the area, caused by the capture in Iran of a U.S. stealthy RQ-170 Sentinel drone involved in a spy mission on the Iranian nuke program.
Actually, the news of the first Typhoon deployment in Israel came in the same days Eurofigher lost the F-X competition in Japan where the MoD announced the decision to purchase the much troubled and costly Lockheed Martin F-35 as next generation fighter plane for the JASDF. Once again (as in Swiss fighter competition won by the Gripen), a political choice rather than a decision based on merit /capability to meet requirements.
Below you can find some images of the exercise published on the IAF website. Many more interesting pictures can be found here.
Image credit: Israeli Air Force website