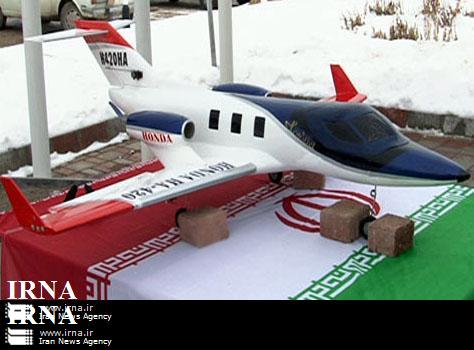 Updated Dec. 27 10.00 GMT
Since Dec. 4, I've been constantly monitoring Iranian media for pictures, news releases or statements about the U.S. RQ-170 Sentinel drone captured by Iran.
Even if the news of the once stealthy American drone are slightly fading, on Dec. 26, the Islamic Republic News Agency IRNA, published the images of an electric rone built by students of Islamic Azad University in the city of Heris, East Azarbaijan province.
Similar to a small-scale Learjet business jet (actually, almost identical to the Hondajet as suggested by its markings) sitting on a table, the ultra-light amateur drone is capable of flying 35-minute reconnaissance missions at night, with a maximum speed of 250 km/h and a minimum of 50 km/h. It can cover a distance of 10 km and operate at an altitude of 9,000 feet.
Powered by two electric engines and capable of flying on a single engine, the drone can scan the ground and dispatch the data to a ground station. As reported by the IRNA, according to the Head of the technical team involved in manufacturing the drone, Nasser Nazari Heris, it took only four months to design and manufacture the drone.
Although this drone will remain an amateur project with no military significance, it gives us once again the opportunity to notice that, since it has showed the first (and only) images of the "Beast of Kandahar",  the regime is stepping up the propaganda war, with frequent statements about Iran's capability to "hack" and take over remote control of U.S. drones (although the Sentinel may have crash-landed in Iran because of technical failure) or reverse engineer the RQ-170 to build its own drones.
In the meanwhile, on Dec. 24, Iran's Navy launched the massive 10-day naval exercise "Velayat 90" in the area stretching from the east of the Strait of Hormuz in the Persian Gulf to the Gulf of Aden. Iranian submarines, warships, and other naval vessels with their accompanying helicopters are attending the drills. I've read no reports about drones taking part to the exercise. So far.
Image source: IRNA
Stay tuned.
This, along with all the previous articles on the Sentinel drone in Iran, can be found at the following link (click and scroll down): https://theaviationist.com/category/captured-stealth-drone/