The Italian Air Force T-346 Master debuts as Aggressor during NATO Tactical Leadership Programme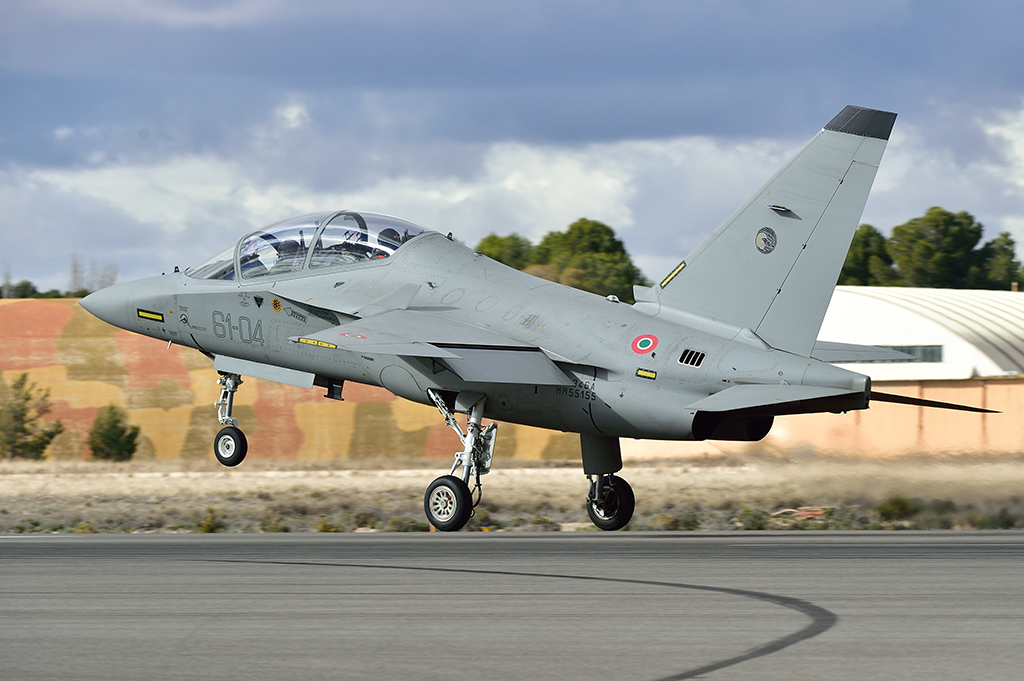 A new role for one of the most advanced combat jet trainers that is also a candidate of the U.S. Air Force T-X advanced trainer program
From Feb. 4 to 12, two T-346As (Italian Air Force designation for the AleniaAermacchi* M346 "Master") belonging to the 61° Stormo (Wing) based at Lecce Galatina airport, Italy, deployed to Albacete airbase, Spain, to take part in the TLP (Tactical Leadership Programme) in the "Aggressors" role.
The Italian Masters had already successfully undertaken such task at Grosseto airbase in May 2015, when the T-346 jets conducted several aerial combat sorties against the local-based F-2000A Typhoons of the 4° Stormo.
But this was the very first time they joined the "Red Air" during a NATO exercise.
The aircraft were piloted by IPs (Instructor Pilots) of the 212° Gruppo (Squadron), the Italian Air Force unit flying the Master for the LIFT (Lead-In Fighter Trainer) training courses required to prepare the Italian, Dutch and soon Polish pilots to the 4th and 5th Gen. combat planes, including the F-35.
The T-346A is a LIFT with stunning performance, cutting edge human-machine interface and a lot of interesting features that could only be found on the most advanced fighter jets: a full digital cockpit, HOTAS (Hands On Throttle And Stick) commands, carefree handling, VCI (Vocal Control Inputs), a Helmet Mounted Display as well as the ability to simulate the flight characteristics of other aircraft and to replicate a wide array of sensors and weapons as if these were actually installed on the aircraft.
That's why it is perfect to play the "Bandit" role: fast, highly maneuverable and very well equipped.
During the TLP the two Italian T-346As conducted two daily sorties flying alongside the Spanish Air Force Typhoon from Moron, also part of the "Red Air" and deployed to Albacete.
The Masters took part in quite complex missions which included as many as 12 Aggressors and many "Blue Air" combat planes, including Typhoon, Rafale, F/A-18 Hornet and Mirage 2000, involved in CAS (Close Air Support), CSAR (Combat SAR) and Personnel Recovery support, or No-Fly Zone enforcement missions.
The debut of the advanced jet trainer in the Red Air team during the TLP was important for both the other TLP attendees, who could train in a more real and challenging scenario, and the 212° Gruppo's IP pilots, who had the opportunity to gain a valuable experience in the role; lessons learned that will be useful in future multinational exercises as well as during the standard LIFT courses at Lecce.
Noteworthy, based on the T-346 is also the T-100, an advanced variant of the Master offered by Raytheon Company, with principal partners Finmeccanica and Honeywell Aerospace, as the next-generation training plane for the U.S. Air Force's Advanced Pilot Training competition worth 350 jet trainers to replace the Air Education and Training Command's T-38 Talons.
*Now Finmeccanica's Aircraft and Aerostructures Divisions.
H/T Giovanni Colla and Remo Guidi for contributing to this post. All images credit: Remo Guidi
Related articles