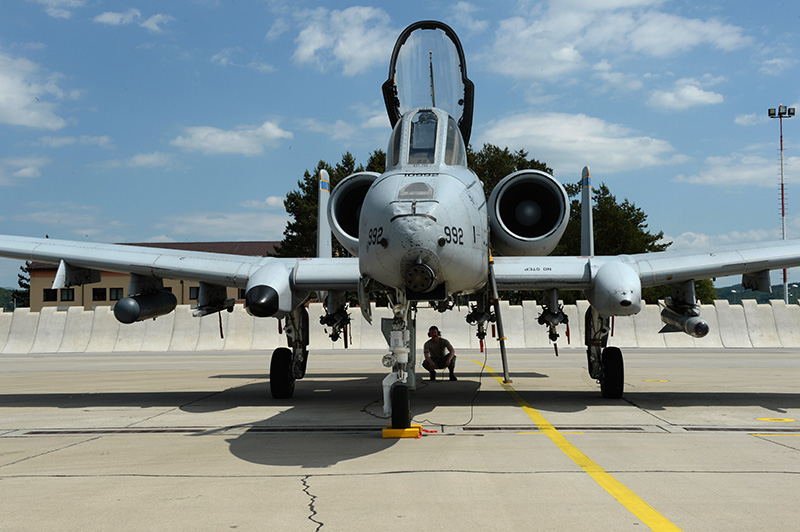 A-10s continue their tour of eastern Europe.
Four A-10 Thunderbolt II jets and approximately 40 airmen from the U.S. Air Force Theater Security Package, deployed to Sliac Air Base, Slovakia, May 16, in support of Operation Atlantic Resolve.
The contingent of the 354th Expeditionary Fighter Squadron have taken part to a joint training with the Slovakian air force whose aim was to improve interoperability in allied air operations and multinational close-air-support operations.
According to U.S. Air Force Gen. Frank Gorenc, U.S. Air Forces Europe and Air Forces Africa commander: "The U.S. Air Force's forward presence in Europe, augmented by a rotational force like the TSP, allows us to work with our allies to develop and improve ready air forces capable of maintaining regional security."
The 354th EFS is currently deployed to Campia Turzii, Romania, but takes part in "micro deployments" across eastern Europe to reassure local NATO allies and show them the U.S. commitment: since they started their six-month tour of duty in Europe, the 12 TSP "Warthog" attack planes from the 355th Fighter Wing, Davis-Monthan AFB, Arizona, have been stationed in Germany, UK, Poland, Romania, and Estonia.
During their stay in Slovakia, the A-10 worked with the Slovakian air force L-39s in joint close air support training with JTACs (joint terminal attack controllers).
Image credit: U.S. Air Force
Related articles