Five U.S. Strategic bombers conduct simultaneous missions around the North Pole and over Alaska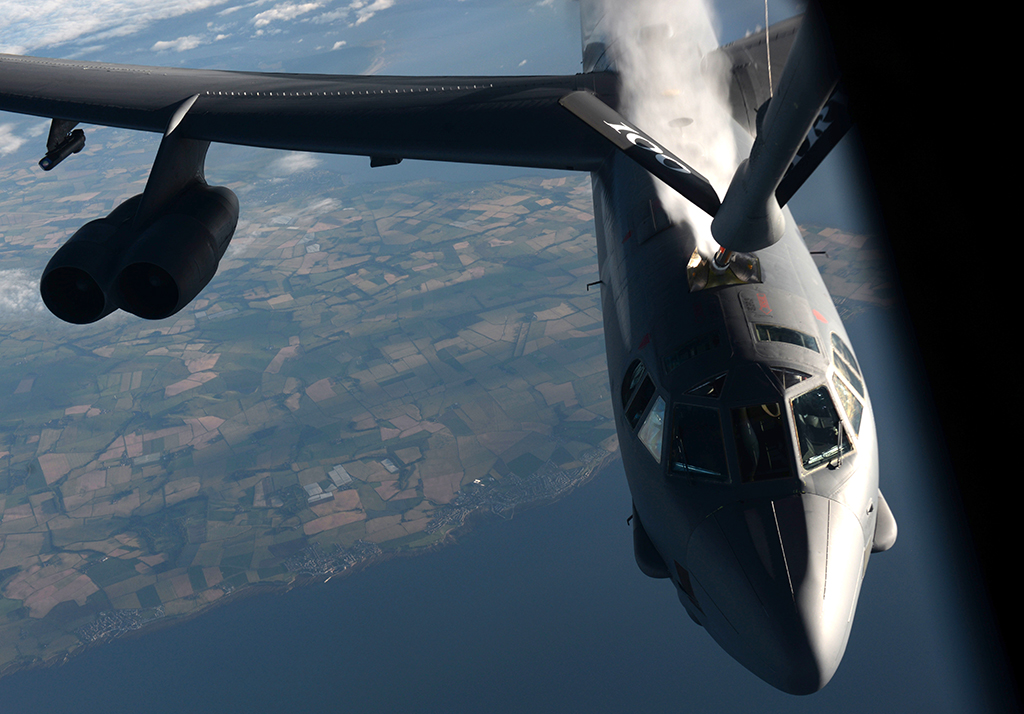 Dubbed "Polar Roar" the latest show of force saw U.S. bombers flying to the North and Baltic Seas in a Cold War-style exercise.
One B-52H Stratofortress from the 2nd Bomb Wing, Barksdale AFB, La., two B-52Hs from the 5th Bomb Wing, Minot AFB, N.D., and two B-2A Spirits from the 509th Bomb Wing, Whiteman AFB, Mo., were launched in simultaneous, non-stop flights from the U.S. to the North and Baltic Seas, around the North Pole and over Alaska, and over the Pacific Ocean to Alaska's Aleutian Islands, respectively.
The mission, dubbed "POLAR ROAR", saw some of the bombers drop inert weapons (in the Joint Pacific Alaska Range Complex) and included joint training with some regional partners whose fighters had the opportunity to intercept the heavy bombers.
Interestingly, during their trasit through the European region, the Danish F-16s supporting NATO's continuous Baltic Air Policing mission, along with JAS-39 Gripens from the Partnership for Peace nation of Sweden.  Additionally, Typhoons from Great Britain – one of the Baltic Air Policing detachments – were airborne in western Estonia training areas while the bomber transited the Baltic Sea off the Estonian coast.
Polar Roar Ex.
On the pict are flt trcks of 2 B-52`s(Red), 1 B-52(Green), 2 B-2A(Black).
The Empire Strikes Back :-) pic.twitter.com/REFJ1oaa2r

— Mark (@Mark_swl) August 1, 2016
As highlighted by one of our sources, it's worth a note the fact that the Russian Su-27s based at Kaliningrad, were not scrambled to perform VID (Visual Identification) of the Stratofortress bomber in the Baltic:  the Flankers are frequently launched to intercept the U.S. RC-135 Rivet Joint deployed to RAF Mildenhall and flying almost daily off the Russian Oblast. Moreover, the NATO countries always scramble their QRA (Quick Reaction Alert) fighters when the Russian Tu-95 or Tu-160 bombers transit in international airspace off their sovereign airspace.
Realistic exercises like POLAR ROAR are conducted periodically in coordination with North American Aerospace Defense Command: usually, on a 24-hour period, during these drills nearly every USSTRATCOM component, task force, unit, command post and bomb wing takes part in the training events which are aimed at improving all the Command capabilities: space, cyber, intelligence, surveillance and reconnaissance, global strike, and ballistic missile defense.
B-52 and B-2s perform their MITO departures and go up to the Arctic and back, controlled by several E-6B Mercury aircraft.
Some strategic bombers route up over Nova Scotia and up past Thule/Greenland and either go all the way around North of Canada and back down through Canada/Alaska or they turn round and go back the way they came. Other waves go up over Alaska first and come back down viceversa.
According to the U.S. Air Force "POLAR ROAR demonstrates the ability of the U.S. bomber force to provide a flexible and vigilant long-range global-strike capability and provides unique and valuable opportunities to train and integrate with allies and partners."
In simple words: it's a message to Russia. Noteworthy, after such U.S. Strategic Command yearly exercise, a surge in missions flown by the Russian Air Force bombers close to European airspaces is recorded by NATO.
Image credit: U.S. Air Force
Related articles