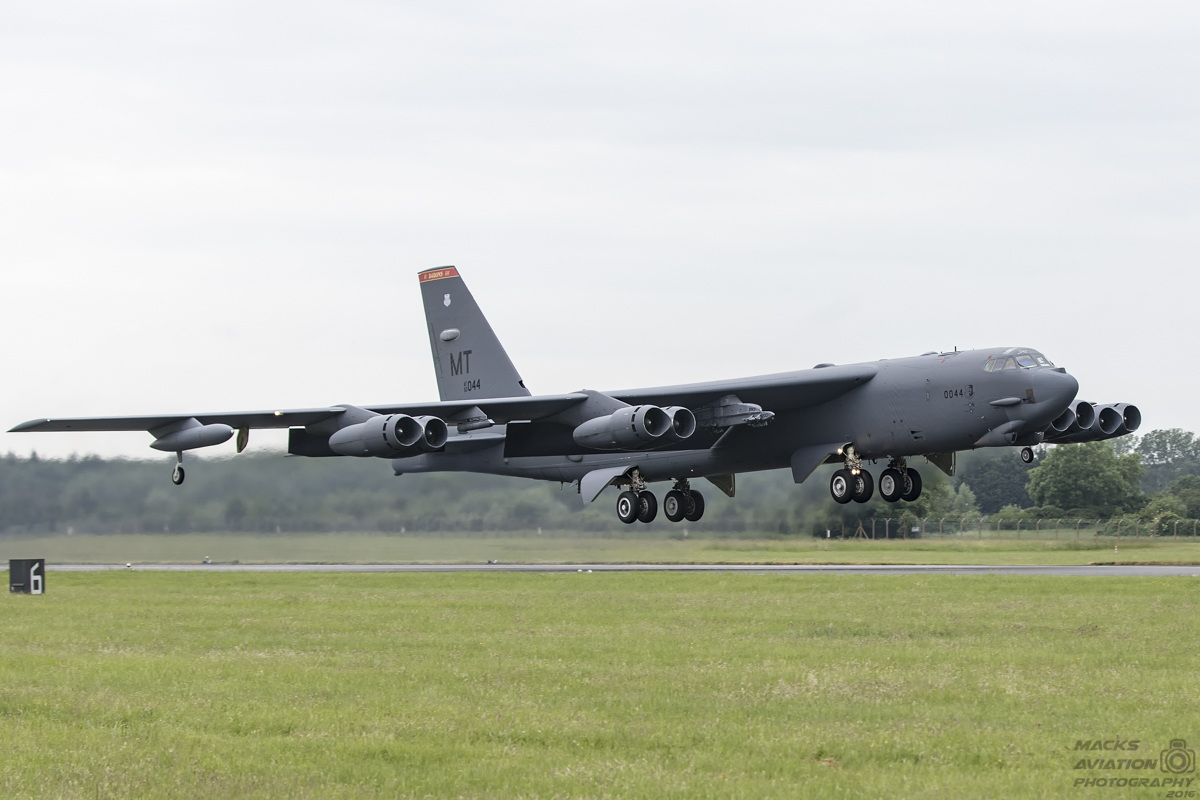 We had the privilege of being invited to RAF Fairford on the 11th June 2016 to meet squadron personnel from the United States Air Force 5th Bomb Wing, Minot AFB.
Over the period of Jun. 2 and 3, 2016, three B-52H Stratofortress bombers arrived direct from their home base of Minot, North Dakota.
The three aircraft deployed are 23rd Bomb Squadron "The Barons" aircraft:
60-0007/MT B-52H Stratofortress
60-0037/MT B-52H Stratofortress
60-0044/MT B-52H Stratofortress
A total of 250 U.S Air Force personnel have been deployed to RAF Fairford in support of these aircraft.
U.S. Air Force Col. Kieran Denehan, 5th Expeditionary Operations Group commander explained the reason for the deployment "We are here primarily to support two exercises the first one is BALTOPS2016 and the second one is Saber Strike."
"BALTOPS" is primarily a Maritime exercise around the Baltic Sea involving 17 NATO and non-NATO partner countries with the B-52's role being Maritime interdiction & Mining operations.
"Saber Strike" is a land exercise over multiple locations in Estonia, Latvia and Lithuania involving in excess of 10,000 NATO personnel. The B-52 will be working with foreign JTACS (Joint Terminal Attack Controller) and Army units.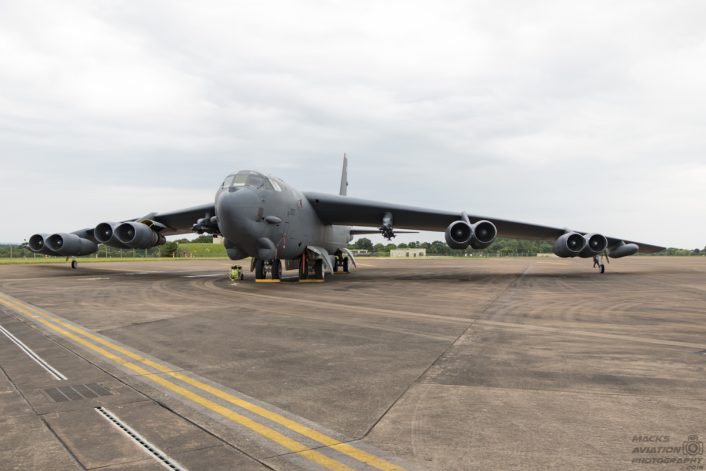 Major Devita, 5th Expeditionary Operations Support Squadron commander, informed us that this years exercise there was more involvement with the CAOC (Combined Air Operations Centre) in Uedem, Germany to seamlessly integrate both the Air and Maritime assets.
Both exercises ran concurrently and due to the B-52s many different roles it was possible for the strategic bomber to take part in both exercises within the same mission although they would usually only fly one at a time due to the complex planning of each missions individually.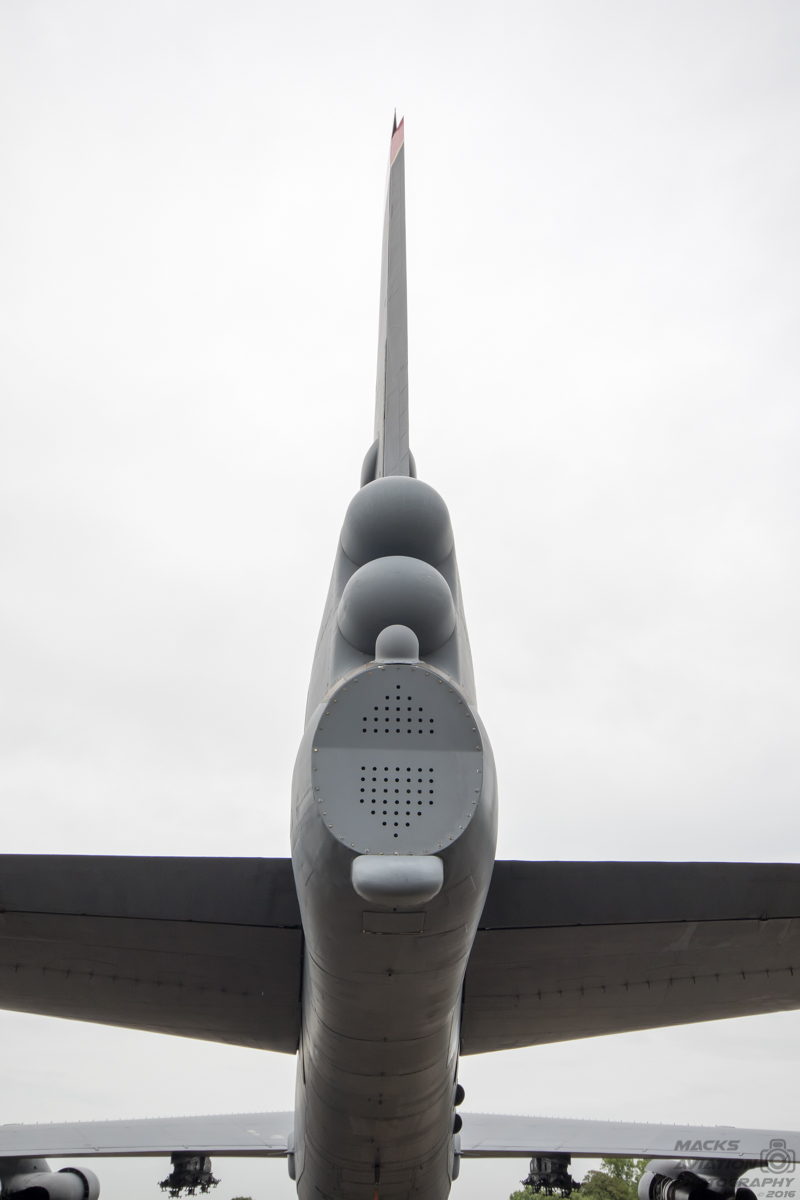 Major Devita did state that on a couple of occasions over the course of the deployment both would be flown in a single mission increasing the duration of the sortie past the 10 hour mark.
The mission that we witnessed launching from RAF Fairford during the visit involved two B-52s involved in a mine laying in the Baltic Sea. The B-52s would be working directly with German Eurofighters, Polish and American F-16s as well as Swedish JAS39 Grippens. Other air assets where also to be involved however not working directly with the B-52s. The sea borne maritime forces would then recover the dropped inert mines as part of an anti-mine operation simulating an enemy having laid mines in friendly waters.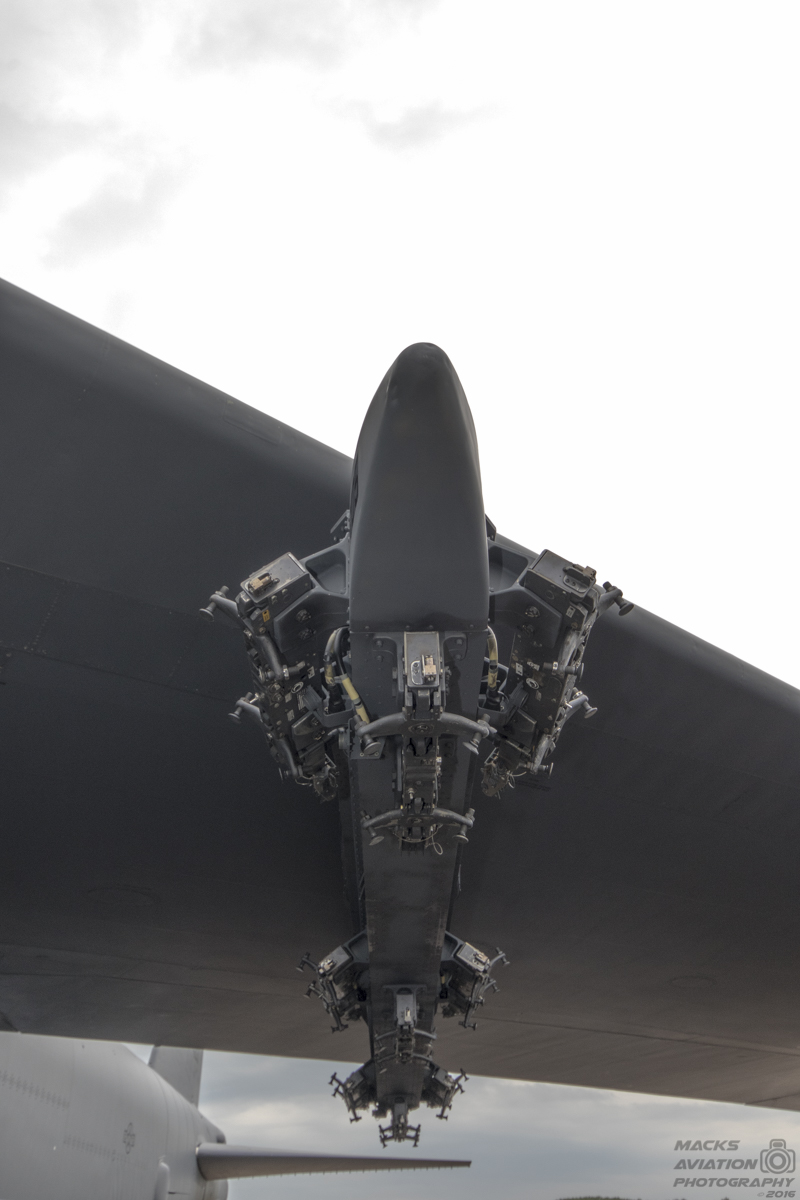 Lt Col Maginness, 23rd Bomb Squadron Commander, gave an overview of the B-52s capabilities in today's world: "if it is an Air to Ground munition the B-52 can carry it". These munitions include laser guided, GPS guided and freefall bombs (dumb bombs), mines and the cruise missile.
The Sniper targeting pod is able to perform NTISR (non-traditional intelligence, surveillance, and reconnaissance) missions. This imagery can be collected, examined and translated into target coordinates for the B-52 or passed on to other players in the area. It can also be collected for other agencies for further analysis and future mission planning. The B-52 has an extensive & robust ECM suite (electronics counter measures), which allows the crew to examine the electronic threat and again analyse an appropriate response.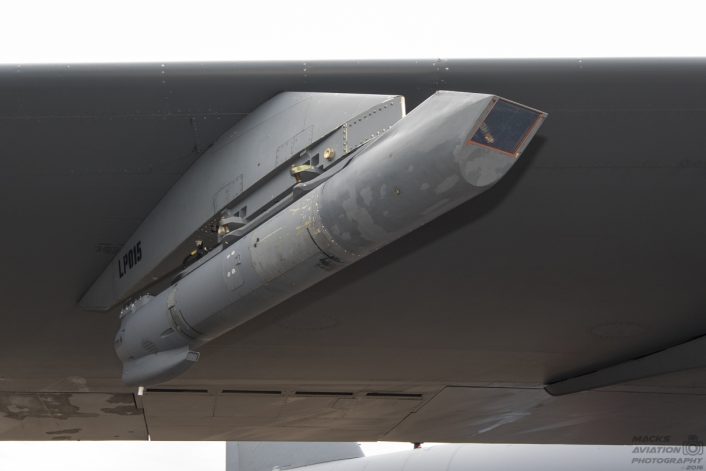 Future upgrades, including a fully digital communications suite called Connect and the ability to carry SMART weapons internally the laser & GPS guided munitions that are currently carried on the external wing mounted points have both been funded and upgrades taking place on the fleet.
With upgrades over the years and future upgrades coming online the B-52H is an extremely capable platform and with the huge range of the aircraft (unrefueled air 2 air) it is still a very viable asset to mission planners. With a first flight in 1952 and an out-of-service date of 2040 it's not inconceivable that we will see 80-year-old B-52s finally retiring to the desert. Another amazing fact about its longevity is that the United States of America has only existed since 1776 so by final retirement the B-52 will have existed for almost 1/3rd of the total time that the United States of America has.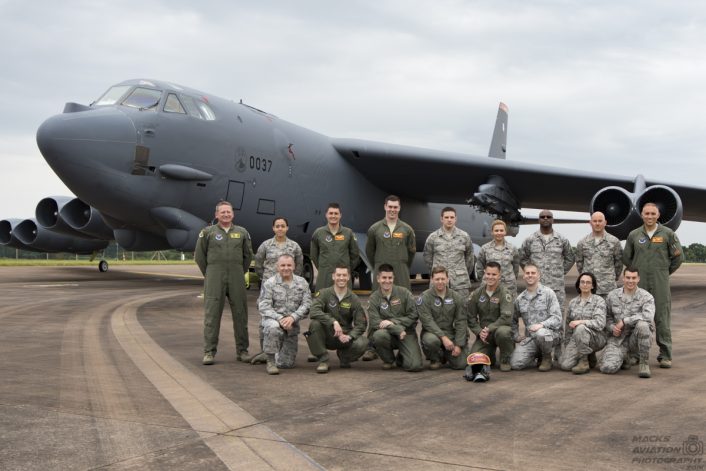 Once again Macks Aviation Photography would like to extend their thanks and appreciation to Sahara Fales, SrA, USAF of the 5th Expeditionary Operations Group Public Affairs office in providing the opportunity to take part in this event, special thanks go to Col. Kieran Denehan, 5th Expeditionary Operations Group commander who is justifiably proud of the men & women under his command on this deployment, all of whom made this article possible.
Salva