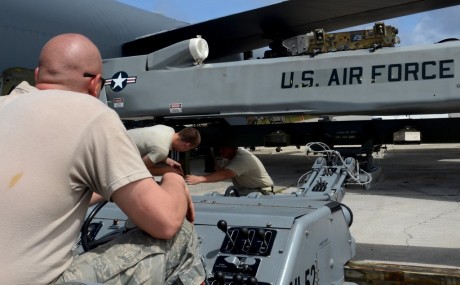 The following images show airmen from the 36th Expeditionary Aircraft Maintenance Squadron, deployed from the 23rd Expeditionary Aircraft Maintenance Unit, Minot Air Force Base, North Dakota, preparing a dummy AGM-86C Conventional Air-Launched Cruise Missile (CALCM) for loading on to a B-52 Stratofortress during a load demonstration at Andersen Air Force Base, Guam, Apr. 16, 2013.
According to the U.S. Air Force, all EAMUs deployed to Andersen have to undertake and pass a load inspection within 10 days of arrival as part of a U.S. Pacific Command requirement to ensure all tools and equipment are mission ready.
Image credit: U.S. Air Force
While tensions in the region escalate again following U.S. rejection of North Korea's demand for nuclear status, Washington keeps its heavy bombers ready to be called into action should the need for a preemptive or retaliatory attack arise.
In the past weeks, B-52 and stealthy B-2 bombers have conducted extended deterrence missions over the Korean Peninsula following Kim Jong Un threats to launch a nuclear attack on the Continental U.S.
Related articles