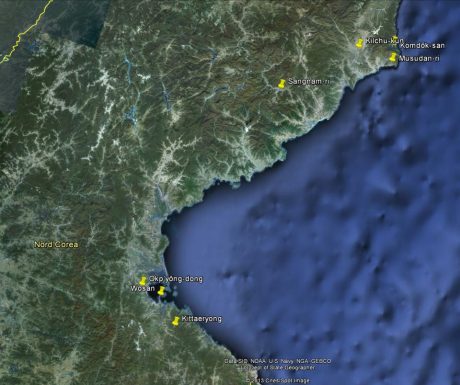 Update Apr. 11 10.00GMT
According to US and South Korea intelligence, since Apr. 10 North Korea is ready to launch one or two BM25 Musudan mobile intermediate-range ballistic missiles "at any time."
There are also significant chances that other types of vectors will be fired in a multiple test (like 2009) that would boost Kim Jong Un credibility.
The Musudan, never launched before, can be moved across the country using a TEL (transporter erector launcher) similar to that used by Scud missile; still if it's quite unlikely that the IRBM will be tested too far from specialized facilities equipped with telemetry and optical systems.
Overview of North Korean east-coast known missile facilities. Credit: Giuliano Ranieri
As happened on previoust tests, impact zone will probably be in the Sea of Japan even if the operational range of Musudan (2,500–4,000 km) could bring the missile elsewhere: the risk is indeed an incident caused by miscalculation or technical failure resulting in a course deflection.
AEGIS and the other radar systems deployed in the zone will calculate the route in the first ascent phase and analyze the level of threat. Patriot missile batteries were deployed in Tokyo, whereas flying activity by U.S. military planes based in the region surged.
Even if F-16s and A-10s from Osan airbase, south of Seoul, have intensified their training in the last few days (based on the radio comms that can be listened in real time on LiveATC.net), it's from "special" platforms that the most valuable information about the North Korean activities comes.
Some RC-12X Guardrail multi-intelligence aircraft are operating out of Osan, that is also the base of  5th Reconnaissance Squadron's U-2S Dragon Lady spyplanes.
Ready to track the reentry vehicles and warheads during the final phase of flight is an RC-135S Cobra Ball II missile tracking aircraft (62-4128/OF), flown by the 45th Reconnaissance Squadron of the 55th Wing from Offutt Air Force Base, Nebraska, currently based at Kadena airbase, Okinawa (Japan), alongside two RC-135Ws (62-4126/OF and 62-4130/OF) from 38th RS/55th Wing (from Offutt as well) involved in SIGINT (Signal Intelligence) missions.
Image credit: U.S. Air Force
Noteworthy, as images on this blog show, both RC-135Ws sport a new dorsal dome located to the fore of the tail. According to some readers, the "bump" houses a second-generation Family of Advanced Beyond Line-of-Sight Terminal (FAB-T), capable to pass low-data-rate communications between airborne and ground platforms in flight.
Highlighted in the image below what is believed to be the FAB-T antenna being tested on an RC-135 Rivet Joint.
Also based at Kadena are a U.S. Navy EP-3E ARIES II (157316), a multi-intelligence reconnaissance aircraft capable to perform real-time tactical SIGINT and full motion video intelligence; an Air Force E-8 Joint STARS (99-0006/GA), capable to detect, locate and track large numbers of ground targets; and a WC-135W Constant Phoenix (61-2667/OF)  atmospheric collections aircraft,used to detect the radioactive particles that result from a nuclear detonation.
Moreover, U.S. Air Force Global Hawk drones are about to be based at Misawa airbase, Japan, to boost U.S. ISR (intelligence surveillance and reconnaissance) capabilities in the region.
Giuliano Ranieri and Stefano Alessi contributed to this article
Related articles