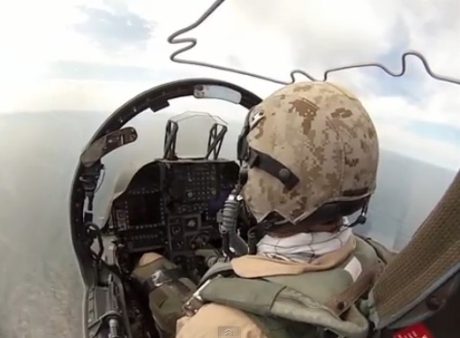 Take a seat and watch the following interesting video.
It shows Capt. David Neely, an AV-8B Harrier Pilot assigned to Marine Medium Tiltrotor Squadron (VMM) 266 (Reinforced), 26th Marine Expeditionary Unit (MEU), during a mission off the USS Kearsarge (LHD3), Mediterranean Sea, Mar. 28, 2013.
At the 03:10 mark, note the pilot shaking his head after the vertical landing: a gesture suggesting he might be unsatisfied about the way he got on the ship (rough, short, unbalanced).
The 26th MEU is deployed to the 6th Fleet's area of operations (AOR) where it operates as a  forward-deployed, sea-based quick reaction force.
The MEU is a Marine Air-Ground Task Force capable of conducting amphibious operations, crisis response and limited contingency operations.
Related articles