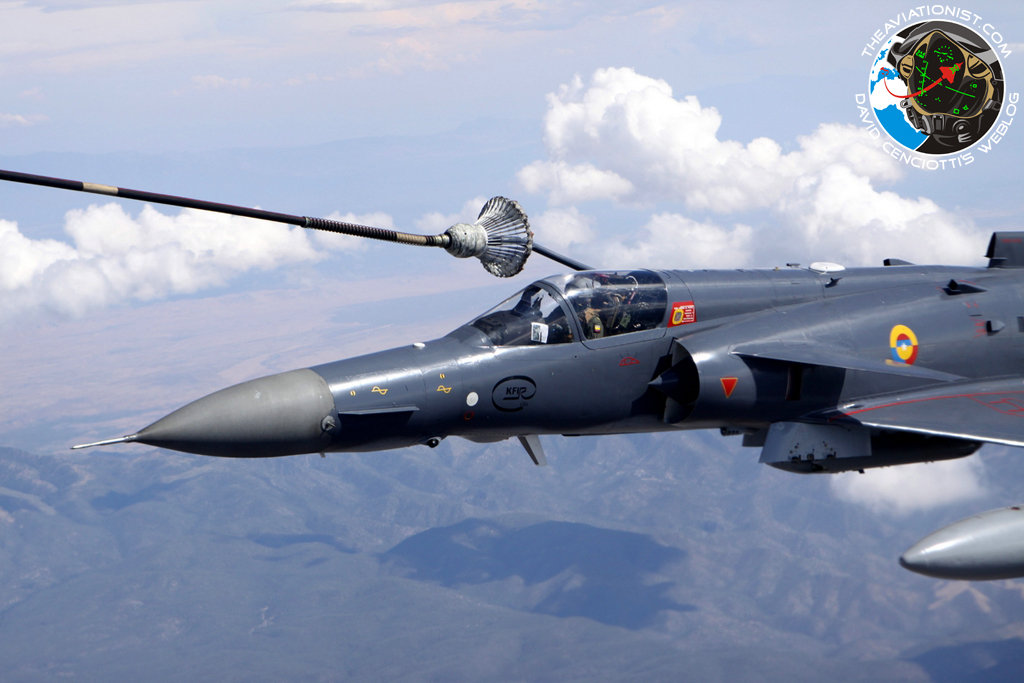 As already explained weeks ago, culminating two years of preparation and training, a Colombian Air Force contingent, made of IAI Kfir fighter jets, accompanied by two tankers, KC-137 FAC 1201 "Zeus" and  B-767 Multi-Mission Tanker Transport FAC 1202 "Jupiter", arrived at Nellis Air Force Base on Jul. 13, 2012.
Six Israeli-built Kfirs (Hebrew name meaning young lion), five single seat and a dual seater Kfirs deployed to Nellis to take part to Red Flag 12-4: FAC 3018, 3028, 3040, 3067, 4068 (Kfir C10s) and FAC 3007 (Kfir TC12). Actually, another plane, FAC 3055, arrived on Jul. 18 bringing the total to sever aircraft deployed.
All Kfirs belonged to the Escuadron de Combata 111, based at Palanguero, in the middle of the country.
It was the first time Colombia was invited to attend the Red Flag and the participation to the world's most realistic exercise marked also the first overseas deployment for the FAC (Fuerza Aerea Colombiana).
The Colombian fighters, with real combat experience in antinarcotics and counterinsurgency missions, were assigned air interdiction sorties that the flew alongside the heavy U.S. bombers in complex scenarios in which they had to face multiple threats.
Among them, the jamming activities of the Electronic Warfare platforms (EA-6B Prowlers) taking part to the exercise and the U.S. Aggressors, against those the Kfir scored a confirmed (simulated) kill.
About 200 Colombian military took part in the war games, including a dozen Kfir pilots.
To see the FAC Kfirs at work, The Aviationist's photographer Tony Lovelock had the exclusive opportunity to get aboard a Colombian B-767 MRTT (FAC 1202) during an air-to-air refueling mission over Nevada.
Although the tanker, using radio callsign "Dolly 07", encountered moderate to severe turbulence at an altitude between 17,000 and 20,000 feet two jets eventually managed to plug the probe into the drogue thus giving Tony the opportunity the get some really stunning shots of the FAC Kfirs at work in the Nevada Test and Training Center.
Image credit: The Aviationist's Tony Lovelock

Related Articles