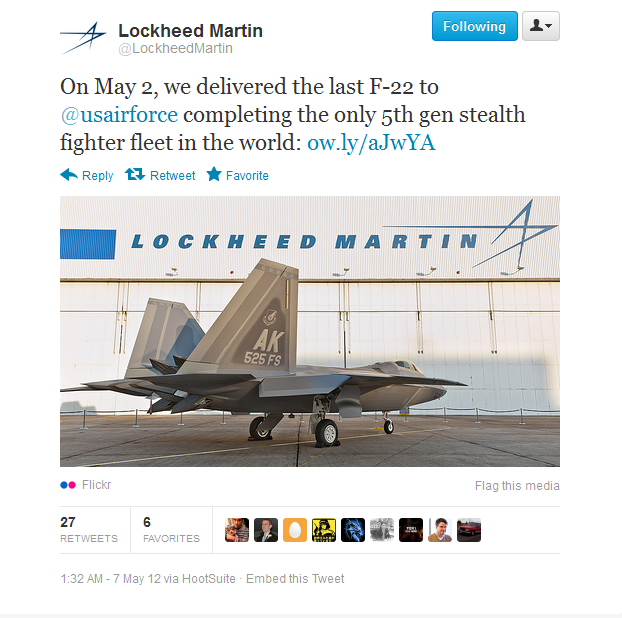 On Sunday May 6, few hours ahead of CBS 60 Minutes featuring an interview with two F-22 pilots who have asked not to fly the Raptor fighter jet because of the hypoxia symptoms experienced with the fifth generation stealth fighter, Lockheed Martin launched a campaign to promote the Raptor on Twitter and Flickr.
Here's the series of six "promotional messages" tweeted by the Lockheed Martin official account:
@LockheedMartin: On May 2, we delivered the last F-22 to @usairforce completing the only 5th gen stealth fighter fleet in the world: http://ow.ly/aJwYA

@LockheedMartin: F-22 deters and defeats threats in denied-access areas and ensures regional and global security/stability: http://ow.ly/aJx5E @aviationweek

@LockheedMartin: F-22 redefines air dominance by combining stealth, speed, agility and 360-degree battlespace awareness: http://ow.ly/aJxEL

@LockheedMartin: F-22 is only fighter capable of simultaneously conducting air-to-air and air-to-ground combat missions with impunity: http://ow.ly/aJy0n

@LockheedMartin: Did you know that F-22 supercruise speeds are greater than Mach 1.5 without afterburners? http://ow.ly/aJy6G

@LockheedMartin: F-22 enables complete control of skies for uncontested operation of 4th gen fleet, coalition forces and ground troops: http://ow.ly/aJyat
Although none mentioned the problems with the oxygen system, the timing of tweet sequence leaves no room for doubt.
At the same time the company's Flickr photostream, usually focused on the F-35, saw the appearance of many new pictures of the last F-22 delivered to the U.S. Air Force.
As done by Northrop Grumman, that tried to reverse Pentagon's decision to cancel the Global Hawk Block 30 program with the help of Twitter, Lockheed Martin has entrusted tweets (along with images on Flickr) to claim some of the Raptor's unmatched capabilities and performance.
Obviously, without tackling the debated safety issues.
Related articles