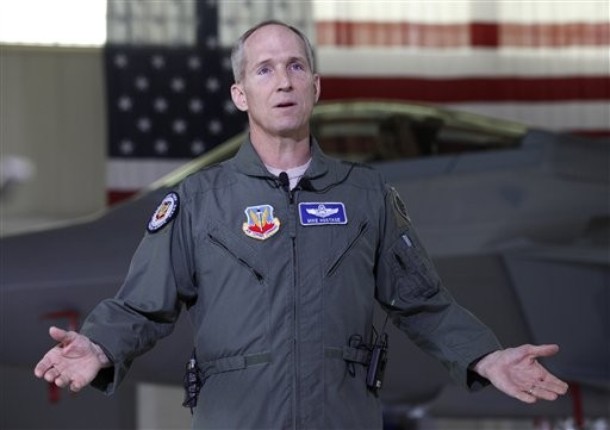 According to a press release issued on May 5, 2012, Gen. Mike Hostage, chief of Air Combat Command, will soon begin flying the Raptor in order to better understand what his F-22 pilots are dealing with.
In a recent press briefing, Hostage told reporters that "a very small number" of F-22 pilots have asked not to fly the F-22 Raptor fighter jets, or to be reassigned to other units, because of the oxygen-deprivation problems with the fifth generation stealth fighter.
Image credit: AP Photo/Steve Helber
The admission came out of the blue, ahead of the interview of two such pilots with Lesley Stahl during CBS 60 Minutes, that will be broadcast on May 6.
Indeed, as the Air Force struggles to identify the root cause of the hypoxia-like symptoms experienced by the Raptor pilots, Hostage believes this risk is not a risk he expects his airmen to take alone.
"I'm asking these guys to assume some risk that's over and above what everybody else is assuming, and I don't feel like it's right that I ask them to do it and then I'm not willing to do it myself — that's not fair," he said, adding that the day they figure out what the problem is the day he will stop flying.
The entire fleet was grounded from May to September 2011 and since the stand down was lifted the ACC has implemented a series of risk mitigation measures aimed to prevent further incidents.
However, pilots are "not comfortable" flying the F-22 right now.
Although Hostage understands the concerns, he says that risk must be balanced with operational requirements:
"In a peacetime training circumstance, we want to operate at as low of risk is prudent for the level of training we get out of a mission," he said. "When we go into combat, risk goes up, but the reason to assume that risk goes up as well."
He didn't comment where a certain number of Raptors are deployed, but we have already discovered that six F-22s from Holloman AFB are currently operating at Al Dhafra, in UAE and, as far as we know they are not literally "in combat".
They are not supporting U.S. troops in Afghanistan nor replacing any other legacy fighter elsewhere, but they are flying air-to-air training sorties in UAE. Therefore, maybe, there's no need to take the risk.
Unless we assume that the Raptors in the Gulf are going to be involved in an attack on Iran: in this case the F-22 would be needed, at least to perform air superiority missions, since those currently "near Iran" are not yet air-to-surface capable.
Image credit: U.S. Air Force
Related articles