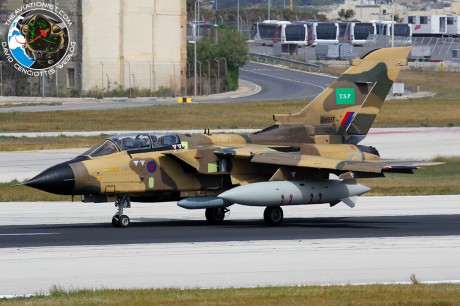 Some interesting Saudi Arabian combat planes have visited Malta International Airport on their way home last week.
On Apr. 23, a RSAF Tornado upgraded under the TSP (Tornado Sustainment Program), have made a stopover in Malta. The Saudi strike fighter, wearing the typical desert color scheme with the RAF roundel and a TSP flag on the tail, was one of the final two upgraded to the standard that will enable the RSAF to operate the medium-range strike fighters until at least 2020.
TSP includes upgrades needed to employ a wide array of precision guided munitions: Brimstone, Storm Shadow, Paveway/Enhanced Paveway-series bombs etc. In other words, RSAF TSP Tornados are quite similar to RAF Tornado GR4s.
On Apr. 25, two two-seater Eurofighter Typhoons on delivery from BAe Warton made a stopover in Malta.
Image credit: Brendon Attard
The two RSAF Typhoon jets in the typical two-tone color scheme followed the same route staged for the delivery flight of the previous examples: Warton – Toulouse (France).
They departed from Malta on Apr. 26, destination Taif airbase (reportedly via Sharm-El-Sheikh, Egypt).
Written with David Cenciotti

Related articles