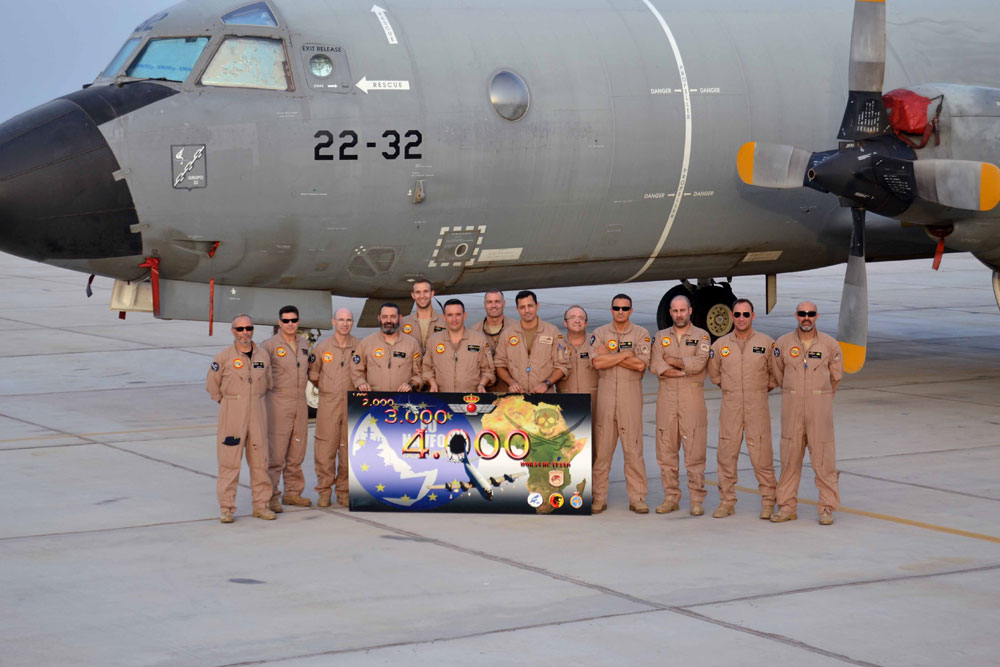 The Spanish Air Force (Ejercito del Aire) detachment in Djibouti, inside the structure of the EUNAVFOR (European Union Naval Force) in the Operation ATALANTA, reached the 4,000 flying hours in operational missions in support of the fight against piracy in the Indian Ocean and Gulf of Aden.
Image credit: Spanish Air Force
This unit of the Spanish Air Force deployed in Djibouti has a Tactical Air Detachment entity with the mission of the surveillance, reconnaissance, information gathering and prevention of maritime piracy in the framework of Operation ATALANTA, within the European Security and Defence Policy (ESDP) and has been deployed continuously since the beginning of the mission, now three and a half years.
The past Aug. 19, during a flight with the Lockheed P-3 Orion, the ORION Detachment surpassed 4,000 flight hours in this mission. Of this total, approximately one quarter represents the contribution of the crew and staff of the 48 & 49 Wings, when they are deployed with a CN-235 VIGMA aircraft supporting the operation.
Image Credit: Lockheed Martin
This important figure coincides with the 50 years being in service of the Lockheed P-3 Orion, joining a very few club of airplanes in the world that can tout this distinct honor such as the spy plane Lockheed U-2 and the Boeing B-52 Stratofortress in the USAF, and the British Vickers VC10 in the RAF.
The P-3 Orion has been in the frontline from the Cuban Missile Crisis, three months after delivery of the first unit to the US Navy in 1962 to nowadays anti-piracy missions over the Gulf of Aden, with the spaniards P-3M Orion, flying tens of thousands of missions over the world's seas and oceans.
El Lince Analista for TheAviationist.com 
Related Articles