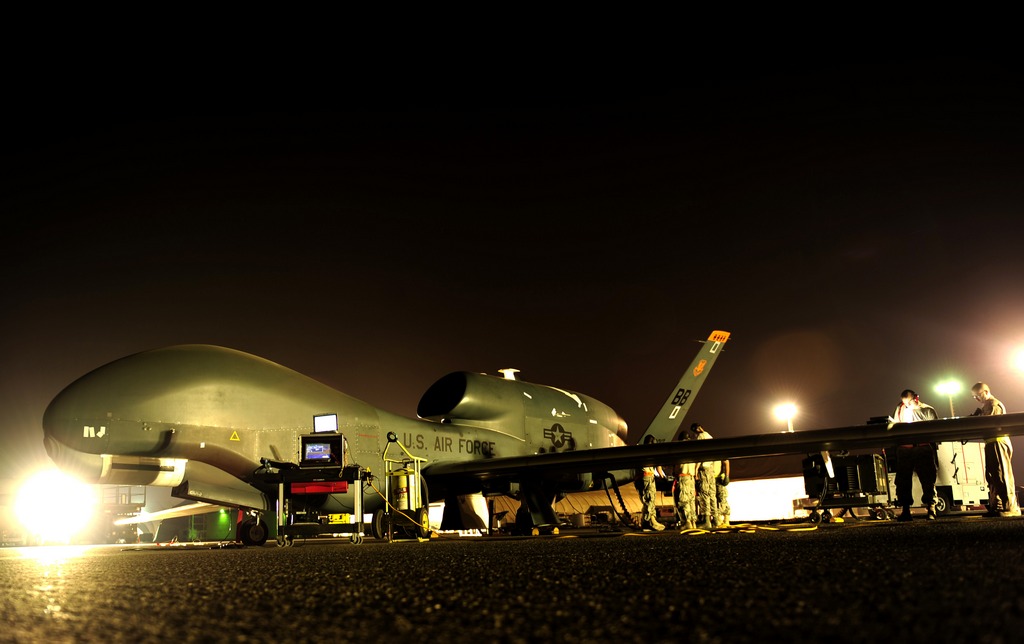 Is new better than old?
It would seem not. Industry insiders have leaked that the Pentagon is to cancel the RQ-4 Global Hawk program not just stopping buying new aircraft but to retire the Air Force active fleet, in favor of keeping the U-2 flying into 2020.
Air force times writer Dave Majumdar wrote: "The Air Force had been planning to buy 42 Block 30 aircraft. According to 2011 budget documents, the cost of each aircraft was around $215 million. It was not immediately clear how many Global Hawks the Air Force has."
The aircraft is being killed off due to its high cost to buy and to maintain; also the program hasn't lived up to its early promise. A knowledgeable industry insider confirmed the project cancellation and said "Yes, this is accurate — been a lot of discussion on the possibility of this a long while," said the source, who was not authorized to speak to the media. "There is a high probability it will come to pass now unless Congress takes a major exception."
The industry source also said "I don't think that's likely in the economic environment of this year's DoD budget, and there are no real 'hawks' in Congress from California," he said. The aircraft is both built and based in the Golden State.
Majumdar said that Northrop Grumman declined to comment whilst Air Force officials would neither deny nor confirm the reports.
Oddly the US Navy is going to keep its version of the aircraft therefore keeping the option open that it could, if needed, be used by the air force.
Surely, Global Hawk has not enjoyed the best of safety records with three prototypes lost and a failure rate much higher than many manned planes facing lethal threats in combat.
However, the U.S. RQ-4Bs belonging to the 9th Operations Group/Detachment 4th of the U.S. Air Force, based at NAS Sigonella, in Sicily, the base of the NATO AGS (Air Ground Surveillance) Global Hawk program were the first drones to operate in the Libyan airspace where they performed high altitude Battle Damage Assessment sorties.
Anyway, all of this is good news for the U-2, a 50 year old program that has ironed out all its techncal issues many years ago.
Affectionately known as "Dragon Lady", the U-2 entered service in 1957. Since then, it has undergone many upgrades and has become a relatively cheap viable platform during these harsh economic times. In what would normally be the types twilight years, a breath of fresh air has been breathed over the majestic old 'Lady' which will see the type in service for more years to come.
Actually, it has been a bad week for other new or recent aircraft types too.
Another rather embarrasing news (this time for Airbus) is that further cracks have been found in the wings of its much lauded A380 "Superjumbo", after the famous uncontained engine failure of Nov. 4, 2010. Airbus did tweet "For those following reports on A380 wing rib findings we confirm inspection & repair process underway and aircraft are safe to fly": a damage limitation message by the company's PR rather than a reassuring statement.
The apparent win of obsolete technology on newer, supposed to replace it, does pose the usual question: are modern aircraft too complex?
One thing is sure: you can't compare new planes with older types. Even if there can be programs free from major problems during their whole lifetime and much troubled ones, facing myriad issues since their birth, generally speaking, those that have survived for 3, 4 or 5 decades and are still flying today, were probably properly designed, maintained, fixed and upgraded during their career. So they are today much more reliable than those integrating cutting edge experimental technologies.
Written with The Aviationist's Editor David Cenciotti
Above image: U.S. Air Force