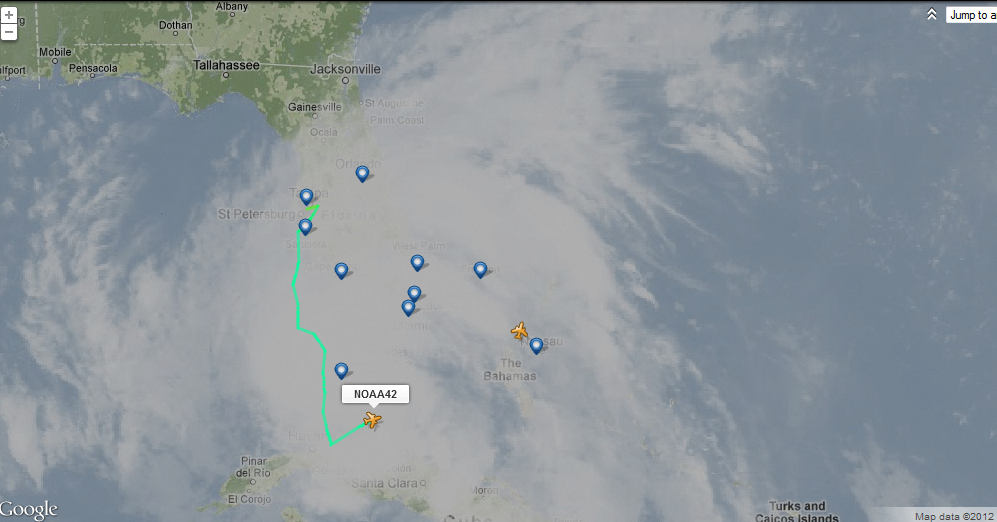 As the center of tropical storm "Isaac" passed south of Key West (at around 5.00 pm local on Aug. 26), moving west-northwest with maximum sustained winds at 60 mph, about 500 flights at Miami International Airport had already been cancelled while 22 F-16s from Florida's Homestead Air Reserve Base were already moved to Naval Air Station Forth Worth in Texas.
Several NOAA weather reconnaissance missions are currently flying around Isaac. You can follow all of them in almost real time using Flightradar24.com that broadcast their position on a map.
Currently flying north of Cuba (around the Bahamas) are NOAA 42 (Lockheed WP-3D Orion) and NOAA 49 (Gulfstream G-IV), both from MacDill Air Force Base, Tampa, coordinated by National Hurricane Center in Miami, Fla.
You can track them using this link (be sure to show the cloud layer through the settings button) whereas their daily schedule can be found here.
Screed dump from Flightradar24.com
Both NOAA's "Hurricane Hunters" are heavily instrumented flying laboratories capable to take atmospheric and radar measurements within tropical cyclones. The NOAA G-IV usually operates at high altitude (its Mode-S shows now FL450 – 45,000 feet) to collect data that is used to predict hurricane tracks and intensity.
The following video shows how those weather reconnaissance missions work.