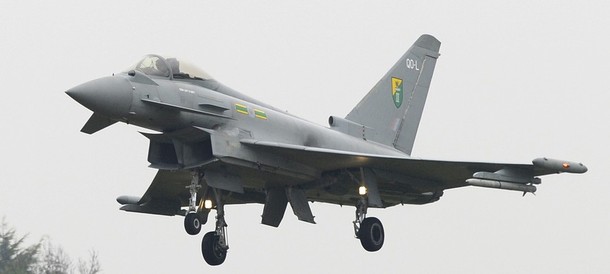 Four RAF Typhoon fighter jets have landed at RAF Northolt airbase, in west London, on May 2, 2012, ahead of a nine-day military exercise aimed to test security for London Olympic Games.
The arrival of the RAF Typhoons marks the first time fighter planes have been deployed at the air base in London since the end of WWII.
Exercise Olympic Guardian features UK's most advanced and combat proven plane training to practice QRA (Quick Reaction Alert) procedures and tactics in case of a 9/11-type of attack. However, the purpose of the series of exercises is also to "deter terrorists from making any threats to the Games", said Air Vice-Marshal Stuart Atha, air component commander for Olympics air security.
The Typhoons will be constantly in Combat Air Patrol, ready to intercept any unauthorized or suspect plane into a restricted zone of 30 miles around the capital, including Gatwick, Stansted and Luton airports. Such airspace, whose shape is more or less circular, designated R-112 will encompass also a smaller No-Fly Zone, that will protect Heathrow Airport, London City Airpost and the Olympic Park. Within the prohibited airspace, designated P-111, only scheduled flights will be allowed.
Any aircraft violating the restricted or prohibited zone will be identified and contacted by radio. It will be asked to follow the interceptors instructions, broadcast via radio or by means of standard visual signs, and escorted. And if the intercepted aircraft does not comply with the fighters' orders, it will be shot down, regardless to whether it is a commercial plane with civilian passengers.
Obviously, the decision to employ the force will be taken at the highest political level, but RAF pilots could be required to use it.
Along with the fast jets, Olympics security will be ensured by Puma helicopters, that will have to intercept smaller aircraft, balloons or even small drones, and by several support assets, as the E-3 AWACS (provided that they will be cleared to fly…) and the Royal Navy Sea King AEW.
Last month a sonic boom caused by two Typhoons responding to an emergency signal from a helicopter was reportedly heard across central Britain.
Image credit: REUTERS/Paul Hackett