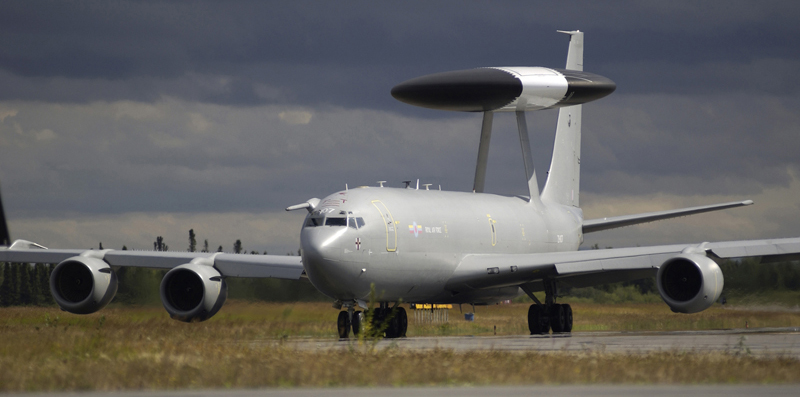 Media outlets in the UK have today reported of a press release from the British Ministry of Defense according to which the RAF's fleet of seven E-3D AWACS aircraft has been grounded due to a technical issue discovered during routine maintenance.
The report doesn't explain what the actual problem is (The Sun reported it as a crack in the dome) but it must be a major one to ground a whole fleet of such important planes nor it says if this fault is likely to affect all other E-3s or Boeing 707 derived aircraft in other U.S., NATO or other air forces service.
U.S. AWACS provide homeland security and air space management "services" to U.S. and allied planes in Afghanistan and all around the world.
The press release has been very keen to point out that there is no affect on operational capability as there are other aircraft that can perform the same task.
However, the only other aircraft in RAF inventory with similar capabilities is the Sentinel R.1, the air segment of the Airborne STand-Off Radar (ASTOR) system, that has proved to be particularly effective in Libya. The Sentinel use a Synthetic Aperture Radar (SAR) and Ground Moving Target Indicator (GMTI) to detect and track enemy ground forces so it is an ISR (Intelligence Surveillance Reconnaissance) asset that, unlike the E-3, is not specialized in AEW (Airborne Early Warning) whose primary role is to detect, identify and track enemy aircraft (and guide fighter planes to intercept them).
Indeed, E-3D AWACS will be among the most important assets of the air contingent destined to ensure the security of this year's London Olympic Games. Provided that the flight ban is lifted.
Once further details are released The Aviationist will provide an update.
Written with The Aviationist's Editor David Cenciotti
Image credit: RAF /Crown Copyright
Related articles