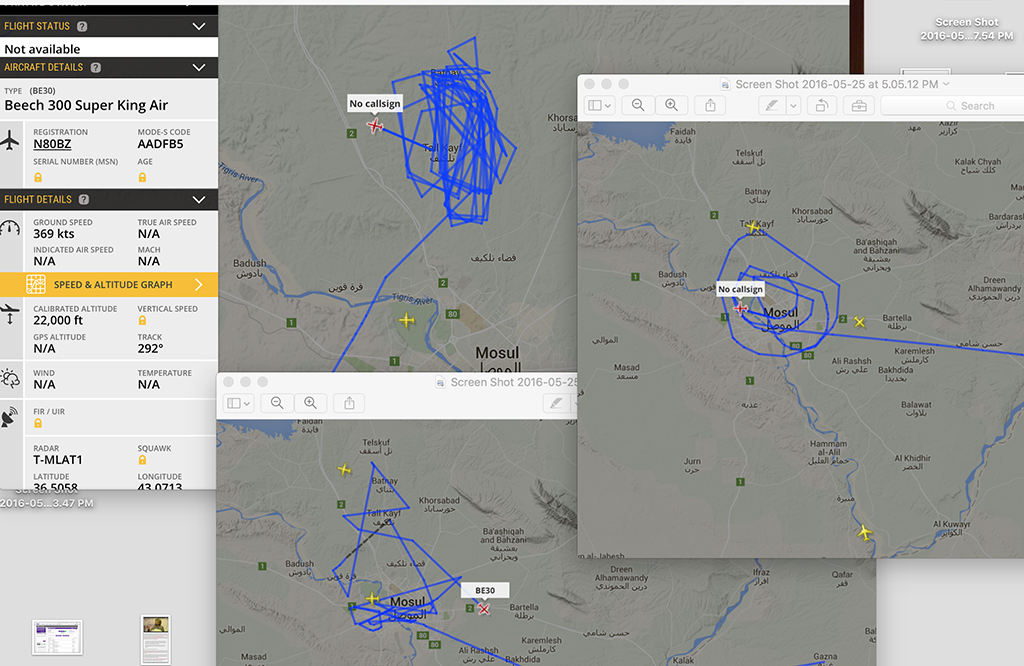 Several spyplanes and drones keep an eye on Mosul, ISIS headquarters in northern Iraq.
As our readers know, we've been reporting about U.S. and allied planes that can be tracked online during war missions since at least 2011 when, during the opening stages of the Libya Air War, some of the combat planes involved in the air campaign forgot/failed to switch off their mode-S or ADS-B transponder, and were clearly trackable on FR.24 or PF.net.
Five years later, little has changed and transponders remain turned on during real operations making the aircraft clearly visible to anyone with a browser and an Internet connection, thus breaking OPSEC and exposing aerial refueling tracks or clandestine operations, like those being flown on a daily basis in North Africa, Afghanistan, or Iraq.
For instance, last night as many as three Beech 300 Super King Air aircraft could be tracked while they circled over Mosul while hunting for Isis leader Abu Bakr al-Baghdadi during ISR (Intelligence Surveillance Reconnaissance) missions.
These days, along with the tankers, several quasi-civilian U.S. Army-operated aircraft, including the Pilatus PC-12/45 N56EZ, the Super King Air 300 N80BZ and N166BA and several MC-12W Liberty (the military variant of the B350 King Air).
Noon Iraq action: 4xUS, RAFtanker+Unknown@planesonthenet@CivMilAir @obretix pic.twitter.com/obexBIjJeV

— avi scharf (@avischarf) May 25, 2016
Like the one, registered N6351V that crash landed near Erbil, Iraq on Mar. 5. In that case, the mishap exposed the fact that the Liberty (just like many other special mission aircraft operating in the same area) sported a non-standard white color scheme  to disguise itself as a light transport plane.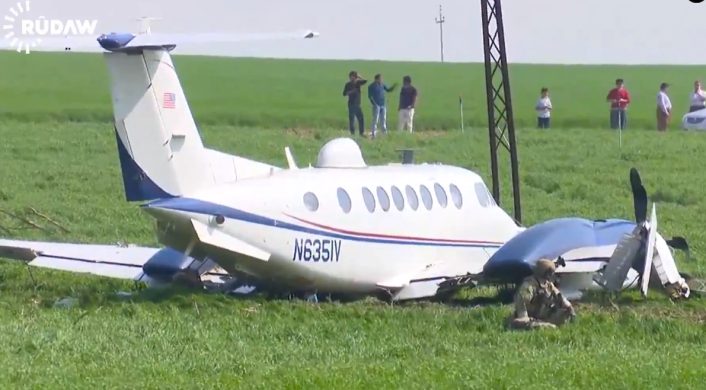 But in spite of its general aviation appearance the aircraft was actually an MC-12W EMARSS (Enhanced Medium Altitude Reconnaissance and Surveillance System) variant used to perform ELINT (Electronic Intelligence), COMINT (Communication Intelligence), direction finding as well as Full Motion Video broadcasting to the tactical commanders on the ground, for day and night target detection, location, classification and tracking, as well as counter-IED operations.
All these modified aircraft are equipped with EO/IR (electro-optic/infra-red) sensors, aerial precision geolocation system, line-of-sight tactical and beyond line-of-sight communications suites, Distributed Common Ground System-Army (DCGS-A) workstations, and a self-protection suite: much more than a normal general aviation plane….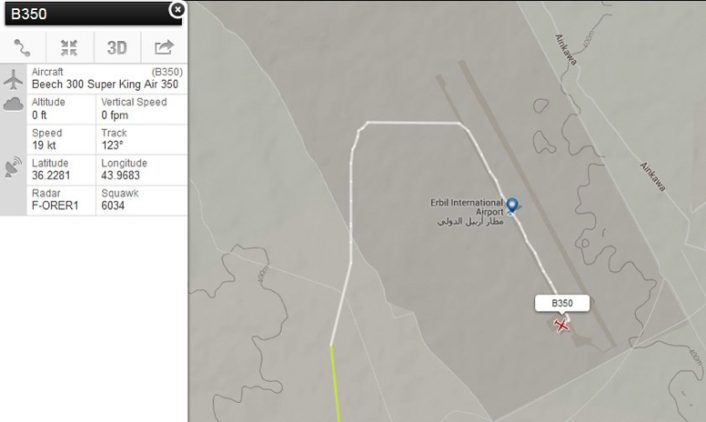 Another frequent visitors of the skies over Iraq is also a Bombardier Global 6000. According to some ADS-B experts it may be a RAF Sentinel R1, a quite advanced ISR platform that has been extensively used in Libya, Afghanistan and Iraq, or an E-11A, an advanced ultra long-range business jet that has been modified by the U.S. Air Force to accommodate Battlefield Airborne Communications Node (BACN) payload.
Whatever it is, needless to say, it can be tracked online on Flightradar24.com.
H/T to @CivilMilAir, Guglielmo Guglielmi, Guido Olimpio, Avi Scharf and Greg Anderson for contributing to this post. Top image credit: FR24.com via Greg Anderson. Image credit: Rudaw.

Related articles