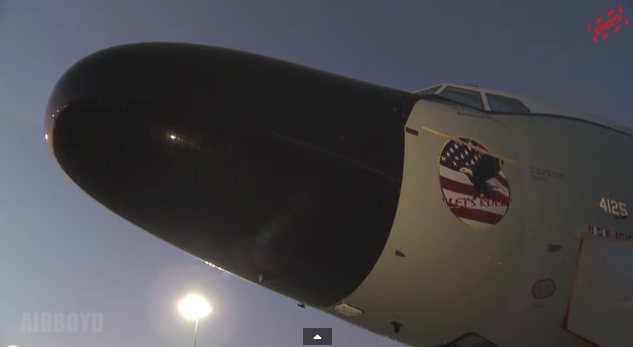 You don't happen to see many close up footage of the RC-135 Rivet Joint spyplane.
The Rivet Joint is a U.S. strategic asset that is used by the Pentagon in every theater across the globe to draw the EOB (Electronic Order of Battle) of the enemy prior and during crisis or wars.
The aircraft is equipped with all sorts of antennae and sensors, to eavesdrop enemy signals, transmissions, detect frequencies used by radio and radars and pinpoint sites of interest, mobile stations, SAM batteries, etc. within a large area of operation, and transmit the snooped data via satellite.
Whereas an RC-135W is often launched from RAF Mildenhall, in the UK, to collect Russian emissions from the Baltic Sea, other Rivet Joint are based at Al Udeid airbase, Qatar, in the Persian Gulf, from where they operate within the 379th Air Expeditionary Wing and keep an eye on the electromagnetic spectrum of Iranian (and Iraqi) and other regional forces.
Here's an interesting video, with some close-ups on the elusive plane.
Related articles