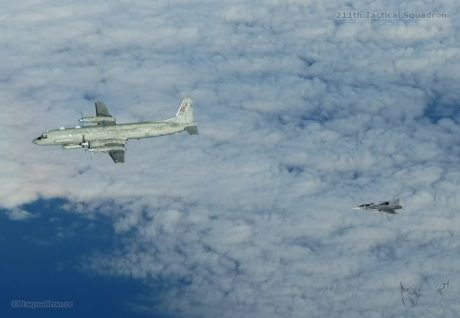 On Mar. 29, two Russian Tu-22M Backfire bombers, escorted by four Su-27 Flanker fighter jets, conducted a simulated night attack on Sweden. The mock air strike did not cause any reaction by the Swedish air force.
On Apr. 25, Svenska Dagbladet reported about a Russian Air Force ELINT (Electronic Intelligence) plane that on the preceding day flew in an unusually aggressive fashion in a narrow line of international airspace in between two big strategically placed Swedish isles, Öland and Gotland.
The Russian plane, reportedly an Il-20 Coot, arrived from the southern Baltic Sea on a northern course between the islands, then it turned south: a route that brought the spyplane close to violating the Swedish airspace.
One reason for the Russian reconnaissance plane to fly so close to Sweden may have been the large international "Combined Joint Staff Exercise" that began on Apr. 20.
The annual exercise features intense signal connection between the staffs in Karlskrona, Enköping and Uppsala; signals that could be of interest for the Russian Il-20 whose presence between Öland and Gotland could also be aimed at testing the Swedish Air Force air defense readiness.
It is not clear yet whether any Swedish Gripen interceptor was scrambled to intercept the spyplane.
According to some Svenska Dagbladet's sources, Sweden did not launch any Gripen; other sources say the Gripens were launched, but a bit too late to intercept the intruder when flying between the Swedish islands.
Either case, the lack of proper/effective reaction by the Swedish Air Force to Russia's aggressive posture in the Baltic is causing concern in Sweden.
In 2011, a Russian Il-20s was intercepted by JAS-39 Gripens of the Czech Air Force performing Baltic Air Policing tasks from Lithuania's First Air Base in Zokniai/Šiauliai International Airport as the image in this article shows.
H/T to Erik Arnberg for the heads-up
Recent articles