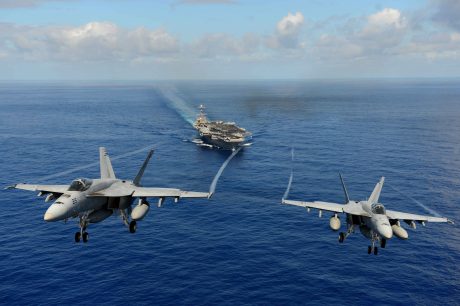 The following images show scenes that have little (if not nothing) to do with "usual" flight ops.
Two F/A-18E Super Hornets from the Tophatters of Strike Fighter Squadron (VFA) 14 overfly with extended landing gear and hook (hence, in landing configuration) the aircraft carrier USS John C. Stennis (CVN 74) during an air power demonstration taking place over the flattop as the it returns from an eight-month deployment to the U.S. 5th and 7th Fleet areas of responsibility.
Air power demo include aircraft belonging to both the embarked squadrons and take place in the vicinity of the aircraft carrier for all the personnel to see.
Here are two more pictures, most probably taken from the cargo door of a C-2 Greyhound, showing the "Rhinos" (nickname for the Super Hornet used on U.S. supercarriers) over or near USS Stennis.
Image credit: U.S. Navy
Recent articles