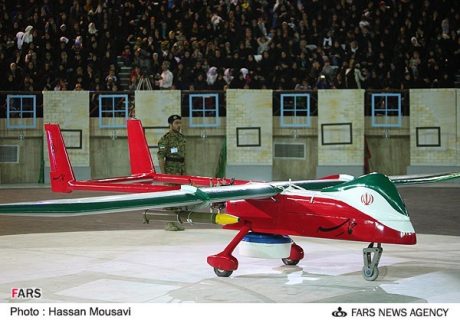 Here we go with another Iranian indigenous project.
After unveiling the Qaher 313 stealth fighter jet last February, a mock-up plane that will never fly in spite of Tehran's claims, Iran has just rolled out its latest UAV (unmanned aerial vehicle).
Dubbed "Hamaseh", the "reconnaissance and combat drone" displayed on May 9 during a ceremony attended by Iranian Defense Minister Brigadier General Ahmad Vahidi, "has been built by defense industry experts and is simultaneously capable of surveillance, reconnaissance and missile and rocket attacks."
The drone, a HALE (High Altitude Long Endurance) type, "can avoid detection by the enemy" thanks to its stealth features, according to Vahidi.
Although, unlike the Qaher 313, the Hamaseh drone is probably capable to fly because its shape is aerodynamically plausible, it simply can't be stealth: the unretractable landing gear, the weapons hanging from the wings, the glaring paint job and the unsheltered wooden push propeller make the UAV very well visible to radars.
Image credit: FARS News Agency
Another aircraft, another joke by Tehran that, in the last years has produced some real UAVs, like those sold to Assad to spy on the rebels in Syria or the indigenous Karrar and Shahed 129 projects.
Recent articles