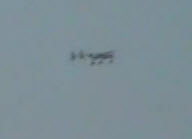 Uploaded on Mar. 24, 2012, these videos show the made-in-Iran drone, known as "Pahpad", taking off and operating from Hamah airbase in the city of Hama, in the west part of Syria, north of Damascus.
Hamah seems to be one of the most active regime's airbases: a Syrian Air Il-76 offloading some "goods" and several Mig-21 and helos were recently filmed there.
Here's the video of the departure
The drone flying at low level
Here below some screen dumps which confirm that the drone used by the Syrian regime over Hama, is the same spotted in Homs.
Related articles