Yesterday the following image (actually uploaded by the 380th Air Expeditionary Wing on Feb. 27) was published by the Air Force Magazine.
The one depicted above is an F-15C Eagle belonging to the 18FW from Kadena, Okinawa, testing a new arresting barrier system for the 380th Air Expeditionary Wing at Al Dhafra airbase, UAE, on Feb. 25, 2012.
The system consists of a cable stretched across the runway and hooked up to motorized retractors on either side. According to the caption, it was the certification test for a new system, which has to be replaced every 10 years.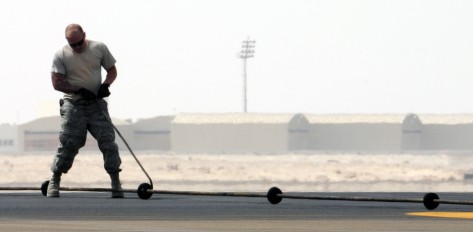 Image credit: U.S. Air Force
Test flights aside, tailhook landings by land-based aircraft, like an F-15, are used in emergency situations to arrest a plane experiencing a failure that could imply a braking malfunction. Or for training purposes, as a Finnish Air Force F-18 did on the Arctic Circle some weeks ago.
Related articles