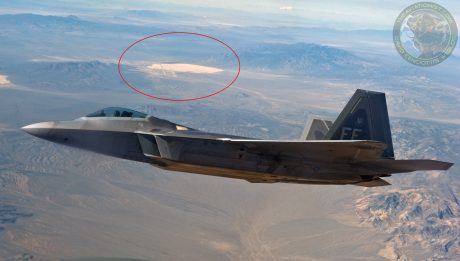 Tanker rides are among the opportunity provided to media representatives during Red Flag exercises at Nellis Air Force Base.
Every now and then, reporters and photographers are allowed to board U.S. Air Force KC-135 refuelers supporting the Blue or the Red forces.
However, media embarks can be cancelled if the tanker is scheduled to operate inside areas from where sensitive spots could be seen and photographed. For instance, some days ago, photographers initially cleared to take part to a tanker mission were not allowed to board the KC-135 because the tanker was heading towards one of those areas.
Considered the proximity of Nellis Air Force Base to the legendary Area 51, I was almost sure that most (if not all) photo restrictions in place within the Nevada ranges were aimed to prevent someone from taking pictures of the famous, spooky airfield located on the southern shore of Groom Lake.
Until I saw the following image (click to enlarge).
Image credit: U.S. Air Force photo (highlight mine).
It shows an F-22 Raptor from the 1st Fighter Wing/27th Fighter Squadron out of Langley Air Force Base, Va., as seen from a KC-135 Stratotanker during a Red Flag 13-3 sortie on Mar. 5, 2013.
Just above the stealth fighter you can clearly see the salt flat used for runways of the Nellis Bombing Range Test Site airport (KXTA) on the north of the Area 51 USAF military installation.
Let's make it clear: the above photograph does not add much to all the high-resolution images already available, including some stunning satellite imagery. There's no sign of stealth planes or extraterrestrial vehicle.
Still, I can't remember any recent image of a modern U.S. combat plane taken in the vicinity of Area 51 and considered all the photo restrictions in place on Red Flag's tanker flights, I consider this picture extremely interesting.
Related articles