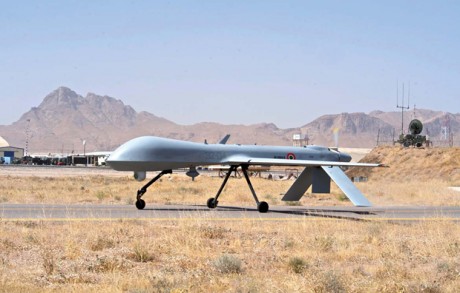 The Italian Air Force has set a new service record in December 2012, when one of its Predator drones deployed to Herat flew for 24 hours, supporting four different ground missions in Afghanistan.
Image credit: ItAF
The MQ-1, with the Task Group "Astore", initially fllew over the Bakwa district to support a ground patrol of the Task Force "Victor" that was inspecting the route to be used by an arriving Italian Army convoy.
Then it moved to support from the above the important redeployment phase of the Task Force "South East" from Bakwa base, that was handed over to the Afghan Army.
Within the same district, the Predator then supported a strike mission by two Italian AMX jets that have attacked and destroyed with LGB (Laser Guided Bombs) the antennae of a group of insurgents.
During the same sortie the drone flew over a village near Shindand, where the Task Force "Center" is settled and where an army deport had been discovered, to collect imagery.
Flying for 24 hours in Remote Split Operations (meaning the aircraft is launched by a mobile ground control station and remotely taken on charge by another ground control station located at Amendola, in Italy, and controlled via satellite link) between Italy and Afghanistan, the Italian Predator beaten the previous Air Force record by 2 hours.
Related articles