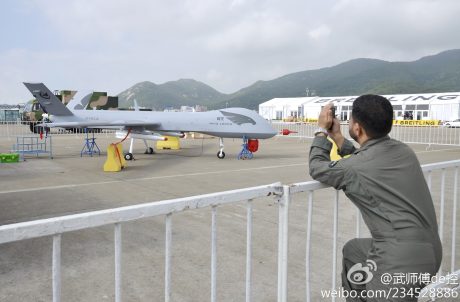 Among the highlights of the recent Zhuhai Airshow, taking place from Nov. 13 to 18, there was China's clone of the U.S. MQ-1 Predator drone called the Wing Loong (Pterodactyl).
Image credit: Weibo.com/Chinese Internet
Similar in shape to the MQ-9 Reaper (Predator B), the Wing Loong/Pterodactyl drone is 9.05 m long, 2.77 m high and has a 14 meter (46 feet) wingspan. Its Maximum Takeoff weight is 1,100 kg and it has a ceiling of 16,400 feet and an endurance exceeding 20 hours.
And, above all, it can carry a couple of air-to-ground missiles.
A CCTV report from Zhuhai Airshow provides some (low quality) images of the Chinese Predator's mobile ground control station.
Although the general arrangement it's similar to the one of the Predator, the Chinese Wing Loong's container seems to accomodate only three workstations, each one equipped with at least two joysticks and a couple of LCD screens displaying all the relevant imagery and information.
The Pterodactyl is believed to carry a suite of sensors, including an infrared camera, a TV camera, and laser designator. It's not clear whether it feeds the ground control station and/or tactical hand-held receivers with encrypted live high-resolution video.
Hi-rez screenshots via Chinese Military Review
So, although largely copied from the U.S. version, the Chinese Predator has some peculiar features, as the Shenyang J-31, an F-22/F-35 hybrid.Whether they are better than the original, it's hard to say.
However, these similar manned and unmanned aircraft raise a question: is China becoming increasingly effective at copying U.S. weapon systems and improve them a little bit to make them more effective and deadlier? Time will tell…
Related articles