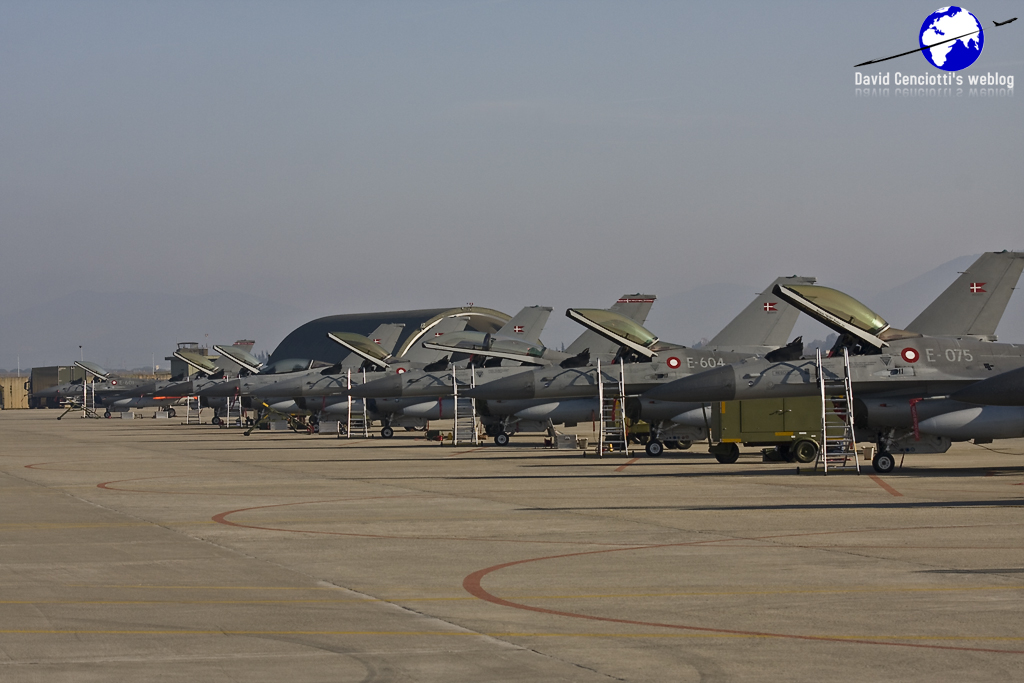 After publishing the first images of the RDAF (Royal Danish Air Force) F-16s deploying to Grosseto in a previous article, on Feb. 7, 2011, I visited Grosseto airbase to see the Danish F-16AM and BM MLU (Mid-Life Update) of the Esk 727 and 730 from Skrydstrup operating with the Eurofighter Typhoons (both F-2000A and TF-2000A, according to the Italian Mission Design Series) of the local-based 4° Stormo.
The RDAF detachment (100 military) is currently hosted in the north part of the airport, where the WH11 liaison cell is also settled. The 11 aircraft are parked in the apron in front of the Hangar 3 of the GEA (Gruppo Efficienza Aeromobili), west of the RWY21 threshold.
The MLUs of the Fighter Wing Skrydstrup are multi-role fighters assigned to the Nato High Readiness Force (HRF) hence they are flying different types of training sorties: air-to-air (mainly with the Italian F-2000s); air-to-ground (with Danish and Italian ground forces), flying low-level in Central Italy; and also COMAOs (Combined Air Operations) like those conducted in the operational areas east of Sardinia with the 48FW F-15E of the 494th FS deployed to Decimomannu until Feb. 4.
Usually two waves are scheduled each day: at 10:45LT and 14:15LT. A third one is planned a couple of days a week for night flying (with departures at around 17:15LT).
Most of the aircraft deployed to Grosseto carry the LANTIRN (Low Altitude Navigation and Targeting Infrared for Night) and the AIM-9X coupled with the JHMCS (Joint Helmet Mounted Cueing System). Noteworthy, lthe Danish MLUs are equipped with a search light, mounted on the port side of the fuselage beneath the canopy, used for the identification during interception at night, much similar to that of the Italian F-16 ADF.
Below are some pictures of the detachment, that will last until Feb. 11, 2011, when the F-16s are due to return to their homebase.