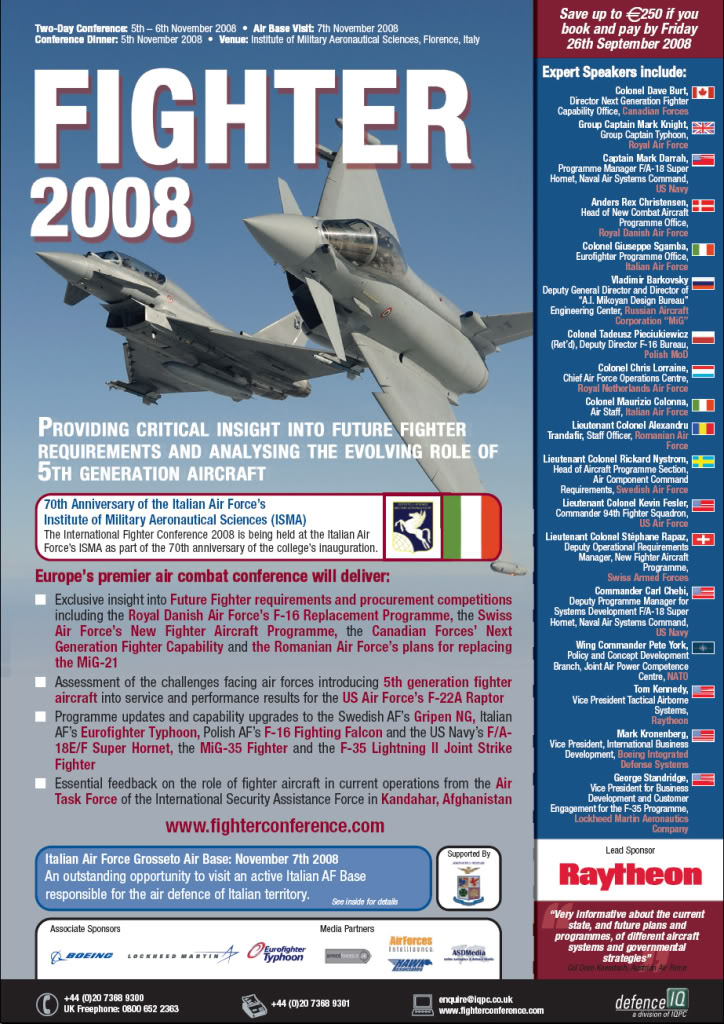 On Nov. 5 and 6, the Istituto di Scienze Militari Aeronautiche (ISMA), Italian Air Force Institute of Military Aeronautical Sciences in Florence, as part of the celebrations for the 70th anniversary of the institute, will host the International Fighter 2008 conference. This event is the only one in Europe dedicated to the analysis of air defence and strike fighter developments around the world and it is specifically tailored for both the Military and Industry representatives. The main themes deals with the Next Generation Fighter Capabilities and Upgrades (how the various nations are equipping aircraft currently in serive to face the new generation threats, how they are going to upgrade aircraft equipments and airframes to enhance air-to-air and strike capabilities, how the 5th generation systems are going to redefine the concept of multi-role aircraft) and the fighter requirements. In particular, this year's edition of the conference include:
Canadian Forces' Next Generation Fighter Capability
Royal Danish Air Force programme and requirements for replacing the in-service F-16 aircraft
Romanian Air Force replacement plans for the MiG-21
Swiss Armed Force's New Fighter Aircraft programme designed to replace the F-5E Tiger fleet
Exclusive updates on the following programmes will be provided:
Swedish Air Force's Gripen NG
US Navy's F/A-18E/F Super Hornet
Polish Air Force's F-16 Fighting Falcon
MiG-35 Fighter
F-35 Lightning II Joint Strike Fighter
Romania's MiG-21
Italian Air Force's Eurofighter Typhoon
Royal Air Force's Eurofighter Typhoon
Other discussed topics are the challenges faced by the USAF bringing the 5th Generation F-22A Raptor into service with the Langley-based 1st Fighter Wing and how the Royal Netherlands Air Force (RNlAF) F-16s have been employed as the Air Task Force of the International Security Assistance Force (ISAF) in Kandahar, Afghanistan.
For more information, you can visit the following website http://www.site-members.com/EventWebsites/11610.002/index.html
or http://www.aeronautica.difesa.it/SitoAM/Default.asp?idsez=3314&idente=458