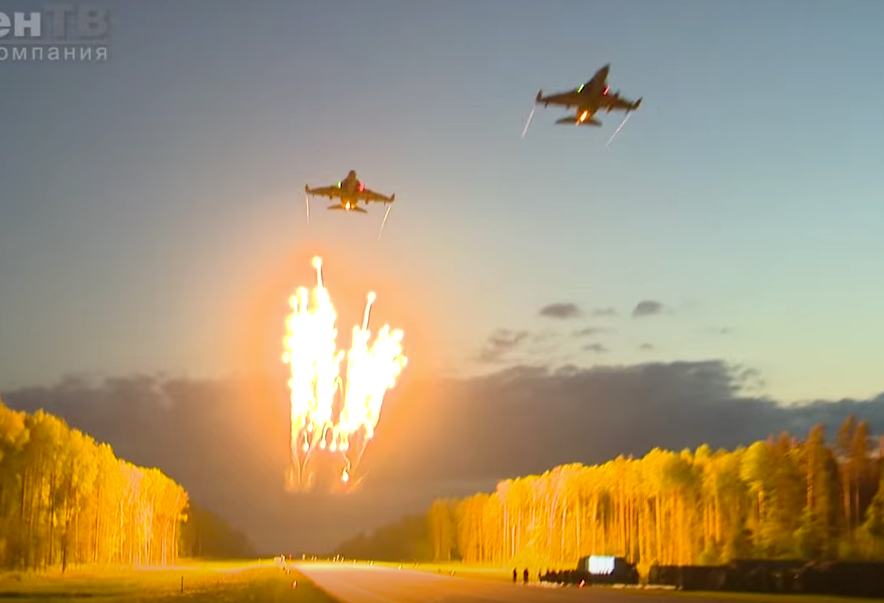 Really cool footage showing Mig-29s and Yak-130s during night and day highway operations. With particularly impressive release of flares in the darkness.
Earlier this year Belarusian Air Force pilots conducted, for the very first time, highway operations in the twilight and, later, at night.
Fulcrums and Mittens along with Su-25 Frogfoots can be seen in the footage below performing daylight and after-dark takeoffs and landings from a runway obtained from a portion of a public road.
Interestingly, the training event also included some pyrotechnics: flare release at night.
The Belarusian Air Force operates a dozen MiG-29 Fulcrums upgraded to the BM standard (Belarusian Modernized): these aircraft received capability to use modern weaponry, such as R-77 air-to-air missiles, Kh-29, Kh-25 air-to-ground missiles and Kh-31 anti-ship weapon. Laser guided bomb capability was also added with the use of a targeting pod.
In 2015, the Belarusian Air Force received the first of four Yak-130 advanced trainer/light attack aircraft.
Related articles