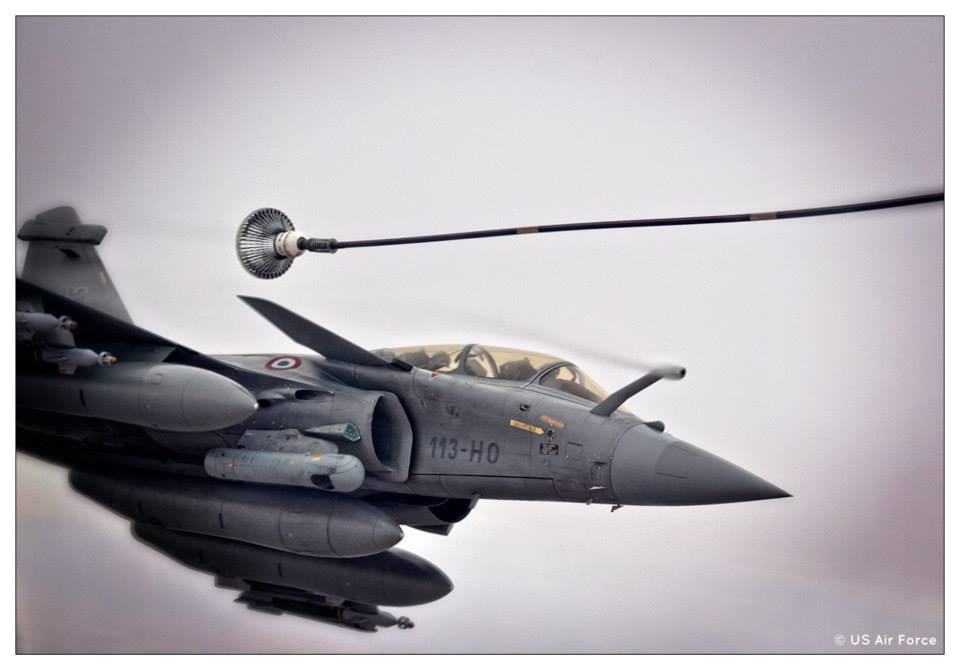 A U.S. Air Force KC-135 and French Rafale involved in an mid-air emergency over Mali.
Taken from a 100th ARW (Air Refueling Wing) KC-135 Stratotanker during what seemed to be (at least until then) a routine aerial refueling mission in support of Operation Serval, in Mali, the above image shows a French Air Force Rafale jet breaking to the left to separate from the tanker after the tip of IFR (In Flight Refueling) probe was severely damaged.
According to the Escadron de chasse 01.091 "Gascogne", who posted the image, the aircraft, with full load of weapons, was refueling from the U.S. tanker in turbulent air due to an intertropical front.
A sudden and violent oscillation impossible for the pilot to compensate, forced the Rafale to disconnect from the tanker's refueling hose causing a cloud of fuel to surround the cockpit and the basket to hit the probe of the receiver, damaging it.
As a consequence, the Rafale immediately separated from the tanker and, unable to return to N'Djamena, it proceeded to the nearest divert field, where it safely landed.
Just in case you thought that AAR operations are just routine…
Photo: 100th ARW / U.S. Air Force
Related articles